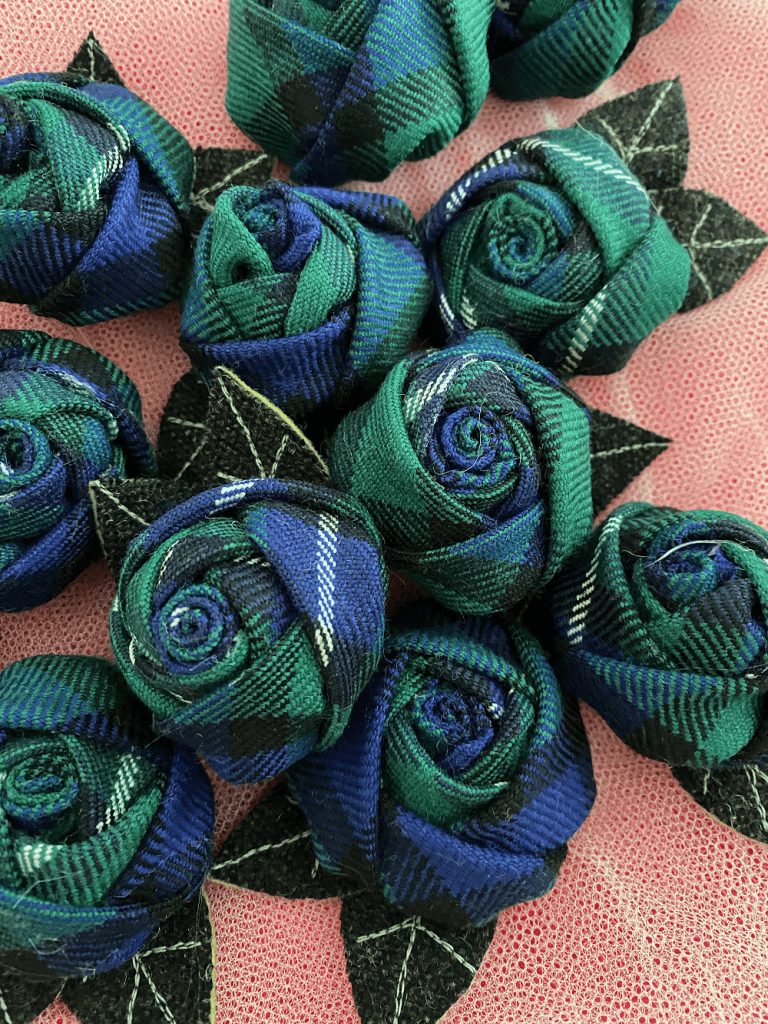 Commission our Tartan Team for something extra special
As well as the ever-popular hand-crafted range made and sold by our fabulous Tartan Social Enterprise, there is a growing interest in bespoke commissions. Each new commission brings a new creative challenge to our talented team. Not surprisingly, nothing so far has been too tricky for them! Recently a wonderful wedding project came their way.
Working on these original commissions also helps the team expand their portfolio for the future. As Janie, Manager of the Tartan Shop, confirms,
'We were recently presented with a large piece family tartan and asked to make a garter, 12 rose button holes, wired roses for a bouquet and several other items for a wedding. We'd never done a garter before and relished the challenge!  We have since realised we could offer similar wedding packages in the future.'
The Grassmarket Centre is a favourite wedding venue for couples looking to celebrate their special day in an award-winning venue with an ethical twist. So it also makes sense to add a little extra tartan option to this service too!
Let's get back to the bride-to-be
Alice, the bride-to-be, is delighted with the commission,
'Everything is amazing, especially the garter which included antique lace, so I have my old and new in one item now. It was so thoughtful of the team to add this. It is the little extra things which will help make my wedding day special!'  
Tartan Volunteer Anne says, our talented Tartan Team can turn their hands to all sorts,
'We have made dog coats, tartan wraps, gentlemen's caps, cushions and we've also made same day requests such as scarves and pocket squares.. 
 If you have an idea for your own Tartan commission, we'd love to hear from you. Whether it's using your own material or choosing one of our own extra special Greyfriars Tartans, we can help.
Pop into our shop on 58 Candlemaker Row to discuss your thoughts with our talented Tartan Team. There is always a friendly welcome!