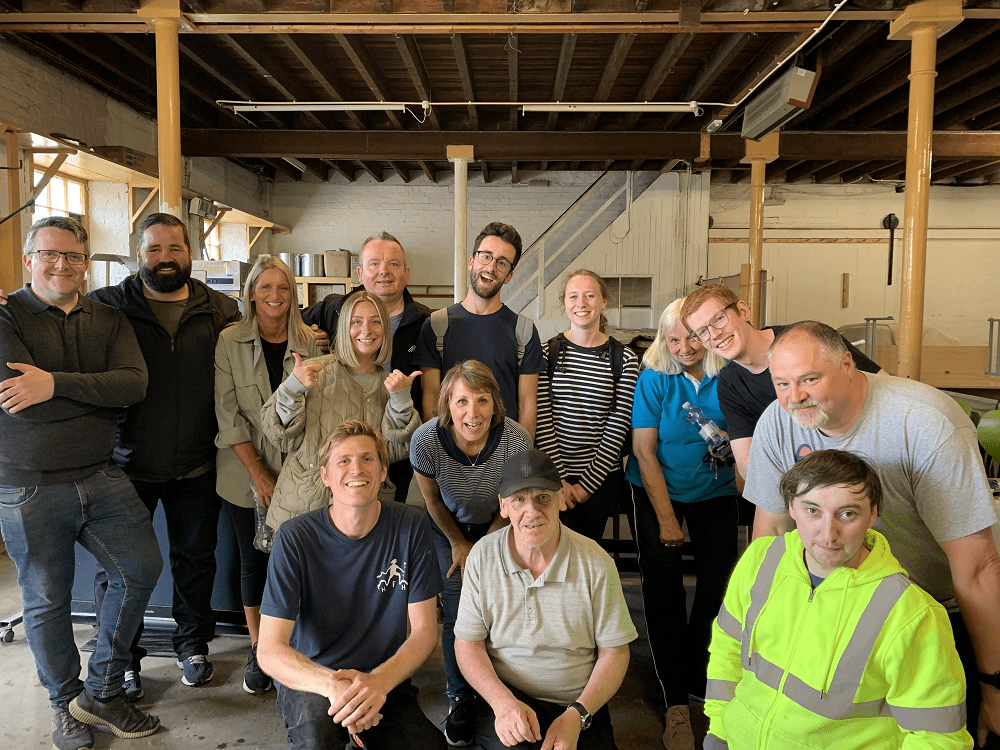 John Lewis and GCP – 10 years and counting
As our wonderful relationship with John Lewis Edinburgh reaches its 10th anniversary, we wanted to take a moment to mark the occasion, explore the success behind our partnership and say THANK YOU.
Judith Hunter, John Lewis Partner & Community Liaison Coordinator, and much-loved friend of GCP, is a true trail-blazer. She has an energy, passion and creativity to make things happen and develop relationships and projects that are meaningful, practical AND productive.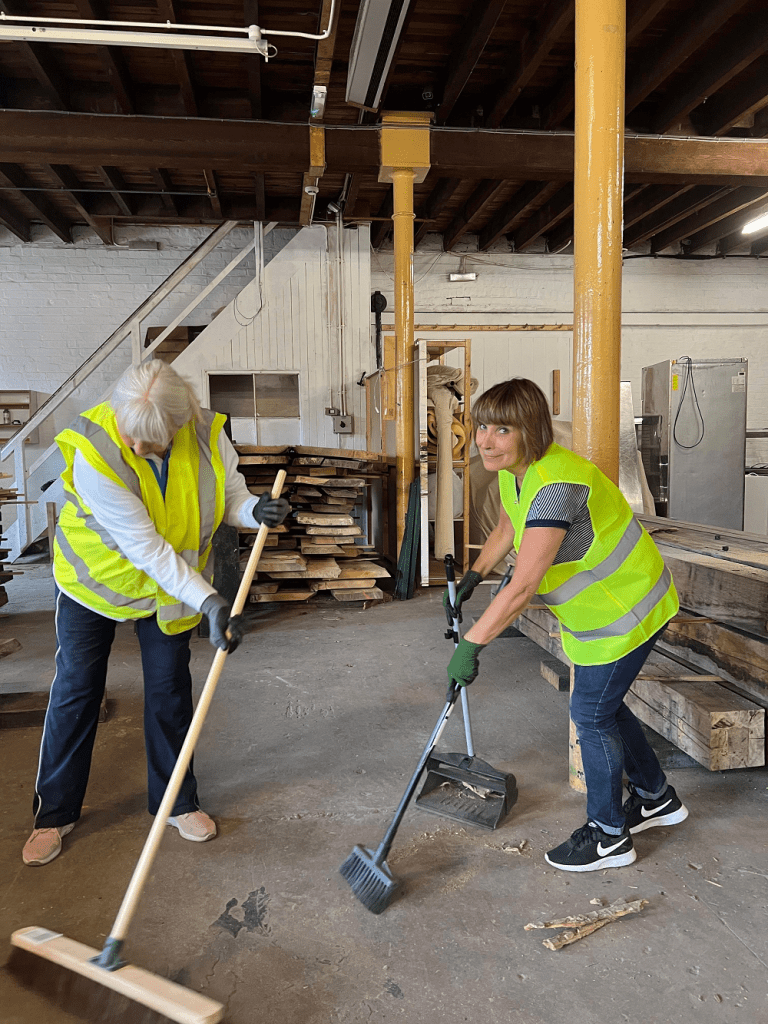 We sat down with Judith, on a sunny morning in our Coffee Saints garden (we're neighbours after all!), to reflect on the many ways John Lewis, Edinburgh have made a difference to the Grassmarket Community Project over the years.
A good fit
To start with we asked Judith, (pictured here smiling as she volunteers!), why she believes John Lewis and GCP are a good fit,
'GCP offers such a broad range of support and training, creative workshops, training for work placements, outdoor activities and most of all friendship!

'We also love that GCP has Members. This aligns so well with our business, as we are all John Lewis Partners. Being made to feel an important part of something, makes for a much better experience all round.'
More than a raffle prize
As with many of our partners, our relationship with John Lewis began in 2013 when we asked for a raffle prize donation. All charities do this and we always appreciate donations for prize draws and raffles, but finding common ground and building long term relationships leads to so much more.
With John Lewis, little did we know back in 2013 just how much more…
Instead of a raffle prize donation, Judith recommended GCP complete a Community Matters form so that she could enter us into the Partners vote. Soon afterwards, when John Lewis had an Art theme, GCP were awarded our first Community Matters cheque to support our Art Therapy group. We have also been grateful for further Community Matters cheques since, to help us buy equipment to support our Members.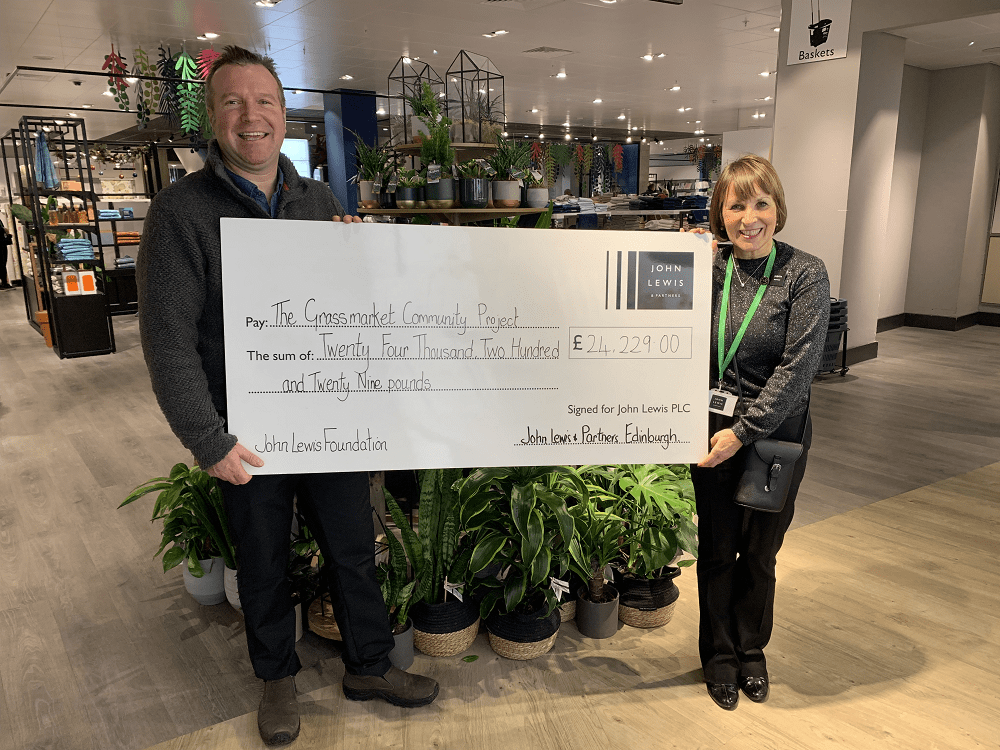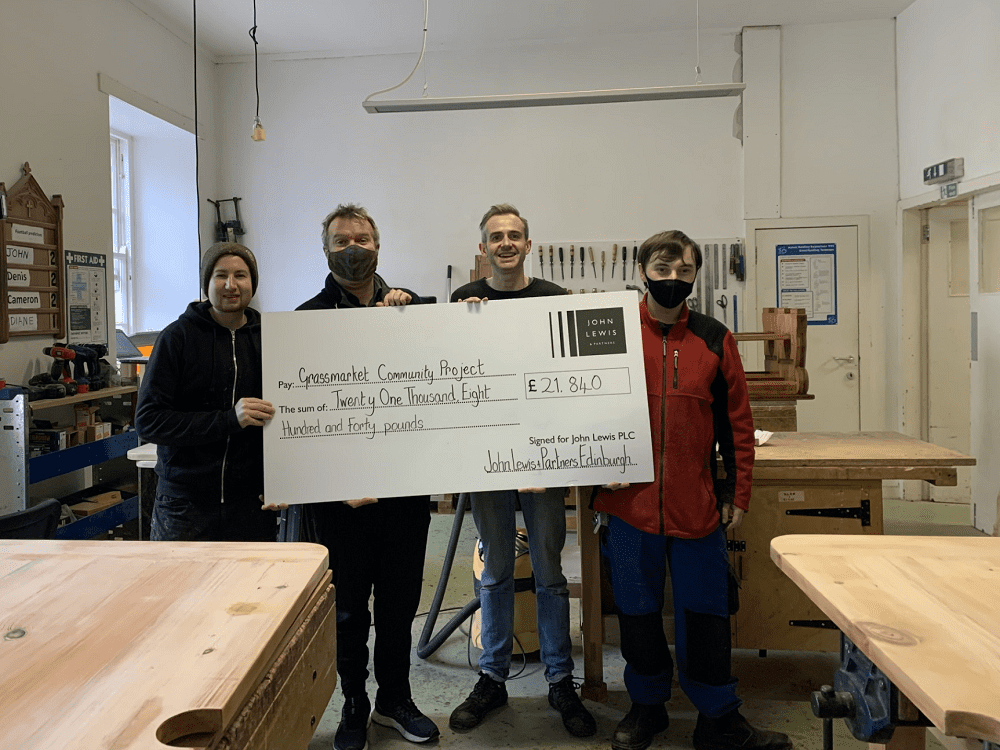 From direct donations and local fundraising to help support our Members Programme and to support GCP through lockdown, to sizeable grants and funding from its Foundation, John Lewis and Partners have been there for us.
For example, The John Lewis Foundation and its carrier bag fund help support our Woodwork Apprentice Programme, leading to qualifications for our Members and, in many cases, employment. Judith highlights the importance of this direct connection with their customers,
'This is a great story for our shopfloor Partners to share with our customers when they are buying a carrier bag.'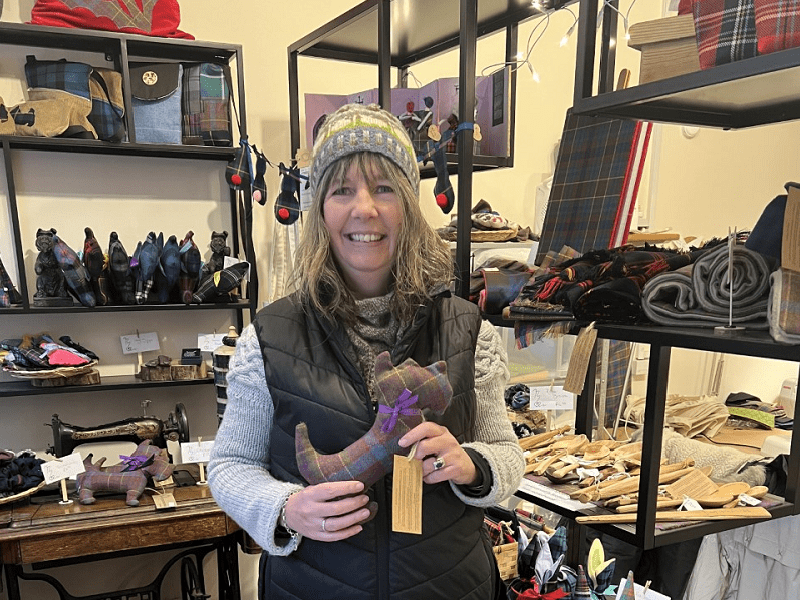 And there's more…
John Lewis also lends us equipment and donates written off stock. We were delighted to accept a written off but fully functional , hi spec fridge when we started up Coffee Saints, plus we appreciate donated fabrics for our Tartan Social Enterprise and wood we can repurpose in our Wood Workshop. Thank you!
Talking of tartan, a recent highlight has been welcoming Alison Kane from John Lewis to our Tartan Social Enterprise, as a Golden Jubilee Trust secondment.
Alison, pictured here, spent 16 weeks with the Tartan Team, helping us take this essential social enterprise up a gear.
Judith, her John Lewis team and Waitrose Morningside colleagues have also enjoyed days volunteering with GCP, from helping us with our window displays, to helping us clear and reconfigure our warehouse space.
Judith shared just some of the photos that have been taken over the years,
'Hopefully looking at these photos you can capture the depth of the relationship that both John Lewis Edinburgh and our local Waitroses have with the Grassmarket  Community Project and the impact this has had on them.'
Judith is a true supporter of GCP and regularly takes time to like and share what we do on social media. She commented on the importance of acknowledging our partnership along the way,
'GCP is always quick to share on Social Media and thank us at their meetings and AGMs. They comment on our support and how important our relationship is to them. It is very important to us all here too!'
A BIG thank you
These are just a few highlights of our relationship with John Lewis Edinburgh. There's so much more we could share about our friendship and partnership. And we hope to, as we continue to find new and creative ways to build and deepen our connection with each other and the local communities we serve.
THANK YOU Judith and John Lewis for all that you do to support the essential work we do.