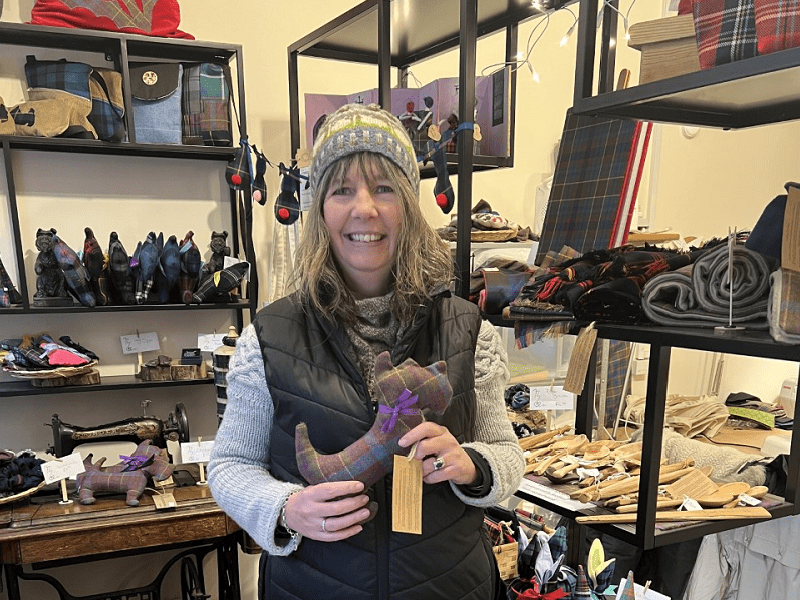 Alison Kane, John Lewis and us – the perfect fit
The John Lewis Partnership and The Grassmarket Community Project have been working together for almost ten years. Thanks to our wonderful relationship with Judith Hunter, Partner and Community Liaison Coordinator, we greatly appreciate the continued support from this iconic UK brand.
John Lewis helps GCP in a great variety of ways, from part funding our Wood Workshop, to regular donations and support for Coffee Saints (we are close neighbours, alongside the St James Quarter).
In February this year, our latest John Lewis collaboration started as we welcomed Alison Kane to our Tartan Project.
Meet Alison
Alison is a People Manager with the Edinburgh branch of John Lewis, in charge of running Level One of the shop with her team. She started her career with John Lewis in London 33 years ago and has been with the Edinburgh branch for 21 years.
Alison is also 'obsessed with crafting and sewing!' She makes her own clothes and also runs The Craft Club at John Lewis,
'Crafting has always been around me.'
Not surprisingly, Alison is happy to admit that one of her favourite places in John Lewis is the haberdashery department!
Alison and our Tartan Social Enterprise
For 16 weeks, Alison is with us 2 days a week and her focus is to help support GCP's Tartan Social Enterprise, bringing her retail management expertise.
The scope of the project is exciting and ambitious, as Alison works with our brilliant volunteer Janie and team to realise the potential of GCP's much-loved wee Tartan Shop. Alison is very happy to share her passion for the project,
'I'm loving it and have been made very welcome. The Volunteers are outstanding. Their commitment, skills and knowledge!  I feel very honoured to be able to do this. '  
The project is looking at all aspects from sourcing materials and productivity to create the best possible hand-crafted product range, to stock control, costs of production, cash flow and profitability for this important GCP social enterprise. It's a great learning curve, including how to service our sewing machines. This in itself saves a bob or two!
Alison and Janie are also working together on the shop layout, display and workspace. If you've visited our Wee Tartan Shop, you'll appreciate this challenge.
More than a retail project
It's striking the way Alison talks about the project. She brings so much retail experience and recognises the exciting potential of our Tartan Social Enterprise. Equally, and with as much passion, she talks about the importance of crafting and creativity,
'More and more, people are realising the many benefits of working with your hands, crafting and creating. It's a very human, healthy and natural thing to do, good for mindfulness and your wellbeing. We live in such a high-pressured digital world, I think the sense of achievement of being practical and making something is a great antidote.'
Alison also talks about the importance of learning and passing on skills. When asked who she thinks of for inspiration, Alison goes straight back to the generations of women in her family,
'My amazing family! Both my nans were very creative and my mum sewed. When I was growing up we never had to buy clothes. My dad's mum was a big knitter. She knitted clothes for me and my dolls! It's within me and their inspiration is always there.'
Thank you Alison and The John Lewis Partnership
We are so grateful and proud to be working with Alison.
A BIG thank you to Judith and The John Lewis Partnership. The Grassmarket Community Project is able to do so much more with your continued support.