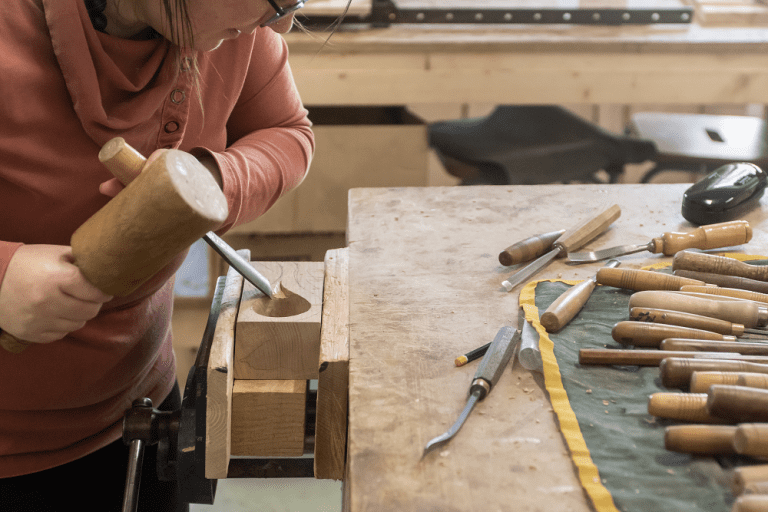 Why wood works for everyone
Our Wood Workshop is deeply rooted in the history of The Grassmarket Community Project. Formed in 2006, it was the Project's first social enterprise and started by repurposing old church pews. Ever since, it has continued to champion GCP's commitment to the circular economy.
Through our wood workshop, vulnerable people are able to increase their confidence and self-esteem, improve their social skills, reliability and resilience, and ultimately work towards further opportunities including formal qualifications and employment.
We are proud that our woodworkers have the skills to make, mend, repurpose or renovate just about any piece of furniture, or wood, received. We enjoy selling our beautiful hand-crafted products to the public and a range of commercial, government, third sector and community-based clients.
Our beautiful hand-carved wood products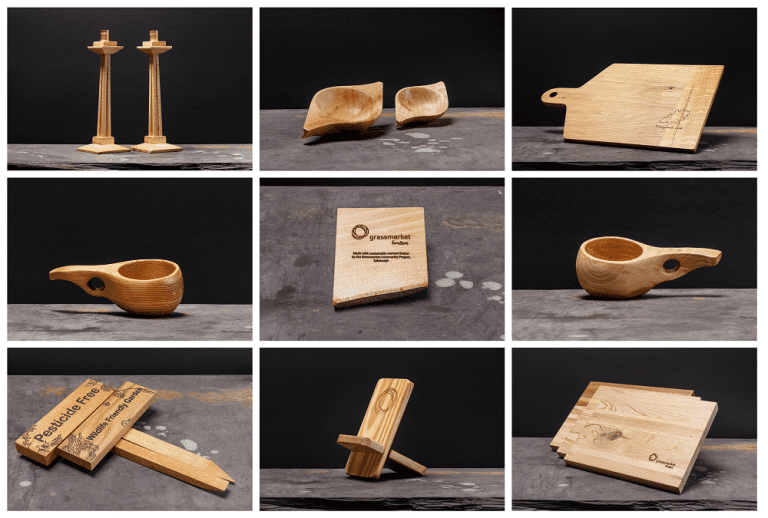 Commission bespoke woodwork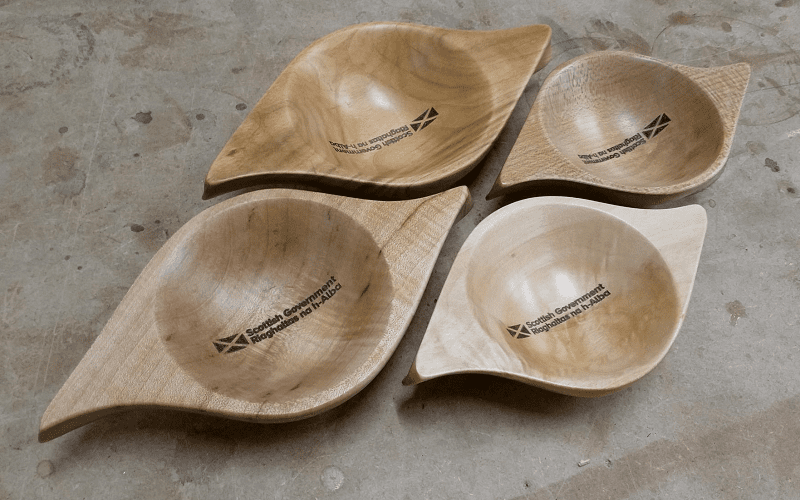 More about our Wood Workshop
Members usually start by signing up for a Friday Woodwork Introduction session, the atmosphere is fun and informal, and everyone is encouraged to try woodwork in a safe environment. Then some go on to join the regular Woodwork Group (Mon-Thu). In recent years, we have developed a more structured training option, with an active pre-apprentice programme. Plans are also in place for us to become an Accredited SQA Centre.
As with everything at The Grassmarket Community Project, the continued success of this Social Enterprise is down to people, as they hammer, saw and banter away in our beautiful Wood Workshop up on the first floor of the Grassmarket Centre. Enjoy the Woodwork Group from our Members' perspective.
Meet Jon Slight – our Woodwork Manager
Jon Slight heads up the Woodwork enterprise.  After the pandemic, Jon and his wife decided to move north to escape the extensive travel and hectic lifestyle of southeast England.
Originally a joiner by trade, Jon has extensive experience with wood and was ready to try something new. Luckily for us, he saw our advert for Woodwork Manager and is enjoying living in Edinburgh and working at the Grassmarket Project,
'I was ready for a change and a challenge and I have certainly fallen on my feet working here at the Grassmarket Centre.'
Jon's calm manner equips him well for working with wood and makes him a really good teacher. He really enjoys working with the Members,
'Members have fun, learn something and can take something away with them. I get the sense that people really enjoy being here.'
Jon enjoys the variety of his working days at GCP, from training absolute beginners, to building the skills of pre-apprenticeships and, hopefully soon, delivering accredited SQA training programmes for Members who choose to work towards recognised qualifications. Heis passionate about building training pathways for those that wish to further their woodworking careers,
'Training can give a sense of purpose to Members. Some may just want to work casually in the workshop, with taster sessions and fun, which can be therapeutic. Others may want to build towards more serious training pathways, gaining skills to enter, or re-enter, the workplace.'
The next step and future ambitions
Jon is starting to see real growth in the business. His ambition is to make enough profit to contribute more to the wider Project. He wants to showcase the very best of our Wood Workshop, to demonstrate the range of skills and training available at The Grassmarket Community Project. A recent creative collaboration with University of Edinburgh is a great example of this.
Commission our Wood Workshop
Working on a commission basis, our wood workshop is completely self-sustaining. We recycle unwanted church pews, windfall trees and other wood into beautiful furniture and wooden objects. Every piece we create is designed and built to the customer's exact specification and we can offer a variety of different types of wood, many of which are no longer commercially available.
Furniture we have produced in the past includes dining tables, smaller tables, cabinets, garden benches, lecterns, memorial plaques, notice boards, nursery furniture and many other items.
Find out more about commissioning our Wood Workshop
For information on commissions, please contact: Jon Slight, jon@grassmarket.org