Meet our pre-apprentice, Stephen
Stephen is a great ambassador for GCP's Pre-apprenticeship Programme. To help inspire others, he is very happy share his experience as a pre-apprentice with GCP.
Our developing Pre-apprenticeship Programme provides paid supported work placements and is a key priority for The Grassmarket Community Project.
By joining our social enterprise teams, working within Coffee Saints or our Wood Workshop, GCP pre-apprentices have the opportunity to gain a crucial first step on the ladder to a career in catering or carpentry.
Stephen's story shows us the many benefits of GCP's Pre-apprenticeship Programme.
Stephen's pre-apprentice story
Prior to 2020, Stephen was on an apprenticeship programme with a locksmith. When this stopped during lockdown, his support worker suggested he come along to GCP to see if he liked it.  A taster session with Jon in our Wood Workshop inspired him straight away,
'I loved it and thought I want to try and do a pre-apprenticeship here.'
The GCP team worked alongside local charity Thrive Edinburgh, to help Stephen formally apply to GCP's Pre-apprenticeship Programme. He was successful and hasn't looked back since,
 'After Covid, I couldn't get out and thought there was nothing for me to do. Attending the Grassmarket Community Project really made me see a way forward.'
Stephen particularly enjoys working with Jon and Campbell, who lead the woodwork training programme,
'Jon saw I was keen and I was offered a 6 month contract. This has recently been extended, and now, hopefully I will be here a full year.'
Stephen started off making wooden key rings, then, with increasing confidence and training, he has recently crafted a carved wooden cup. His most ambitious project, so far, is perfecting the dovetailing cornering technique on his own wooden carpentry box for work.
As well as enjoying his pre-apprenticeship, Stephen enjoys feeling part of the wider GCP family,
'I work two full days a week and often have lunch with other Members at the Grassmarket Centre too. There's something fun and new every day. I love that we work with recycled wood and get to practise with it. We make so many varied things.'
Pre-apprenticeships and Young Members Programme
The Grassmarket Community Project supports our pre-apprentices in other ways too. All pre-apprentices become Young Members, so can enjoy both our Young Members Programme and main GCP Members Programme.
Stephen has gained certificates via the GCP Learning Hub, including training is Health and Safety and Dealing with Hazardous Waste, both vital to being safe in the wood workshop.
Stephen's next step
On completion of his pre-apprenticeship, Stephen hopes to explore courses at Edinburgh College to gain more qualifications and enter employment,
'As long as I'm working with my hands, I'm happy!'
When asked what he would say to someone considering a pre-apprenticeship, Stephen immediately replies,
'If you get the opportunity take it. It's a good bunch of people. Campbell and Jon can teach you everything, the proper skills. Don't be afraid to ask questions as they will give you advice. It's a great laugh too with good people.'
Thank you Stephen, it's great to have you with us.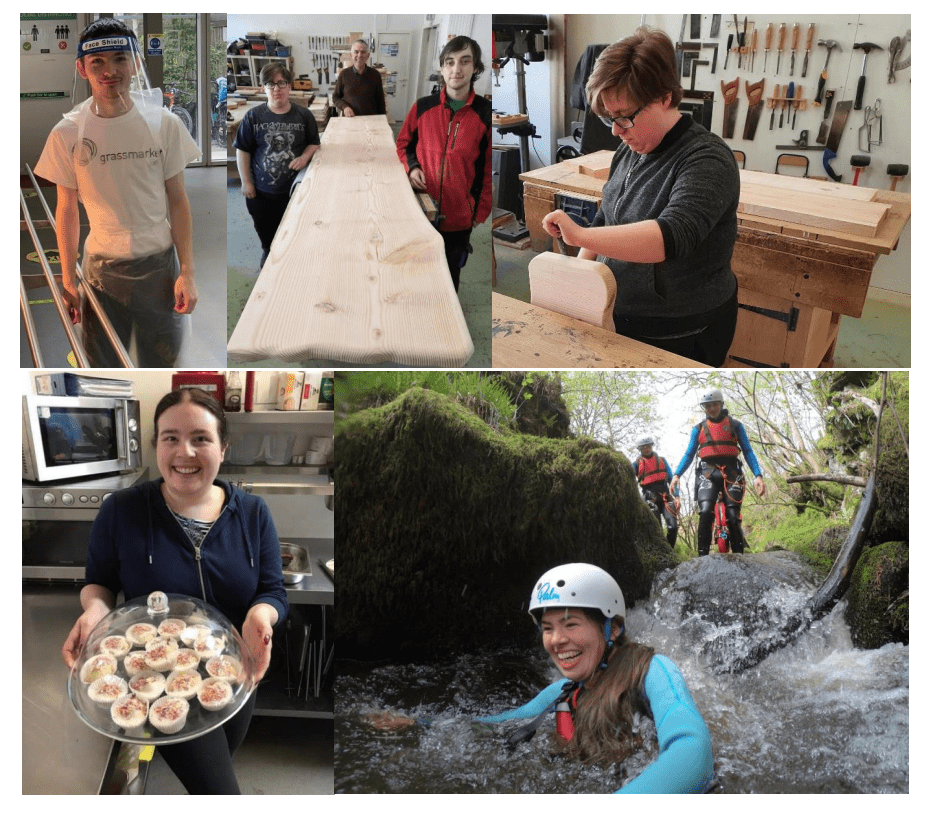 Sponsor the Young Members Programme
Help transform lives directly by sponsoring a Young Members Activity
Your direct support helps ensure we continue to deliver our essential work to support Edinburgh's most vulnerable adults. We guarantee at least one of our Members Activities will be the perfect fit for you or your organisation, or both!
Let's discuss which suits you best and how we can tailor the package and relationship. Join the best of company at THE good place to be.