GCP's Tartan Team visit the V&A Tartan Exhibition
Where do you take our team of Tartan Workshop volunteers for a treat? Obviously you take them to Dundee to the V&A's spectacular Tartan Exhibition! On a very wet day in October, some of our intrepid Tartan Team volunteers went along, including Anne who drove the minibus, Magdala, Janie, Jess and Beryl.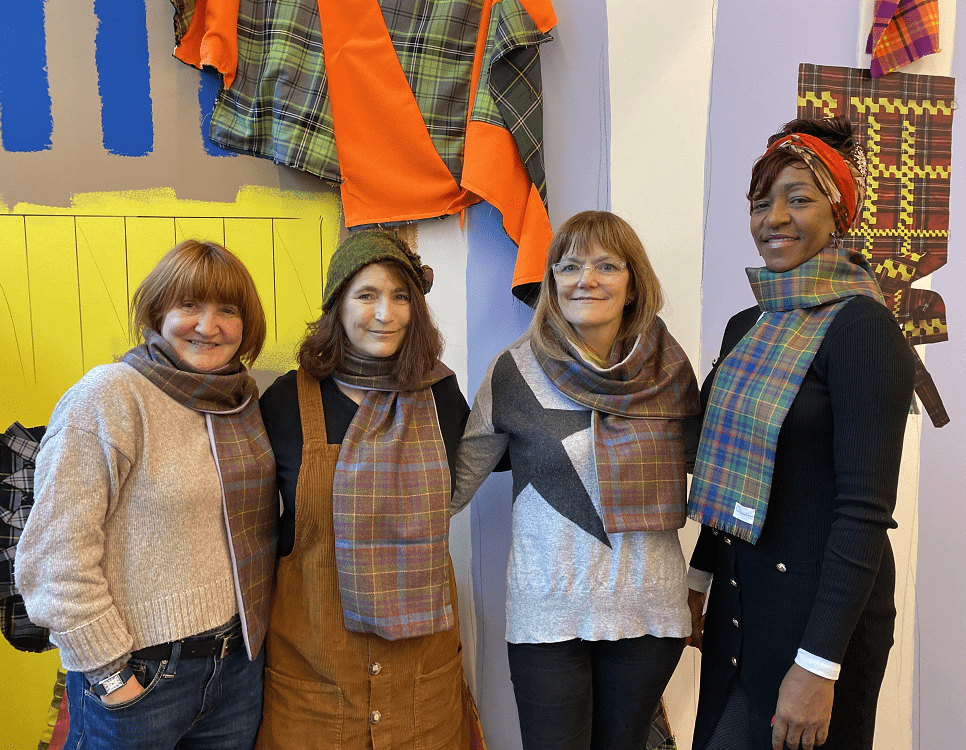 Tartan inspiration everywhere
Everyone had a fabulous day!
As Anne said,
'We are all tartan daft, so as soon as we all saw the first exhibit, we were off!'
The team were keen to examine the tartan, the stitching and the details, gaining inspiration for potential future product lines for GCP's Tartan Workshop and social enterprise.
It was a treat to see so many tartans and hear that over 11,000 are registered officially at the National Records of Scotland. Huge thanks to V&A's Cat who showed us round and gave us inside information which brought the exhibits to life.
It was fascinating to see how tartan has permeated so many elements of society, from the royal tartans, Queen Victoria and the Balmoral influence, to rebels like the punk rockers and designers, such as Alexander McQueen. There were also more sobering exhibits featuring the role of tartan in war, including the history of the Black Watch and a kilt from the First World War, still stained with the mud and blood of its wearer.
People's tartan
Other displays focused on the everyday use and influence of tartan. This led to a discussion about the use of tartan by the workshop team. Beryl noted that she had a version of a glass vase which she hadn't even realised was a tartan design!
Anne remembered her first piece of tartan, bought when she was 16. Her Bay City Rollers scarf! She wore it when she went to see them. She also reminisced about her favourite tartan shoes bought for a ceilidh and her many tartan clad trips to support the Scotland football team!
Janie was more intrigued with working with tartan than wearing it. She was keen to add to her technical understanding of the craft. Jess was too,
 'I enjoy playing with tartan and tweed and mixing different tartans together. I am just loving this exhibition!'
Magdala also enjoys experimenting with tartan, making this designer bag at GCP's Tartan Workshop which sold within a day!
Billy Connelly's kilt was a new donation to the exhibition. This was of great interest to the team as it was made by Howie Nicholsby of 21st Century Kilts in Edinburgh, generous donators of tartan offcuts to our Tartan Workshop.
Tea, biscuits and more tartan
It was clear that on a dreich day in Dundee, GCP's Tartan Team loved their visit and gained inspiration for their own designs. The lovely V&A team gave us tea and biscuits break, whilst we kept talking about the exhibition.
Jess,
'absolutely loved the interpretation of data to create tartan patterns.'
Magdala,
'It's inspirational with so many varied ideas.'
Anne,
'I just love tartan and always have!'
And the last word from Janie, who had won the Social Enterprise Volunteer Champion Award for her work in the Tartan Workshop, the night before,
'I just can't wait to get back in there and have another look…'
And that's exactly what they all did!
The V&A's Tartan Exhibition runs until 14 January. As you can see, our Tartan Team highly recommend it!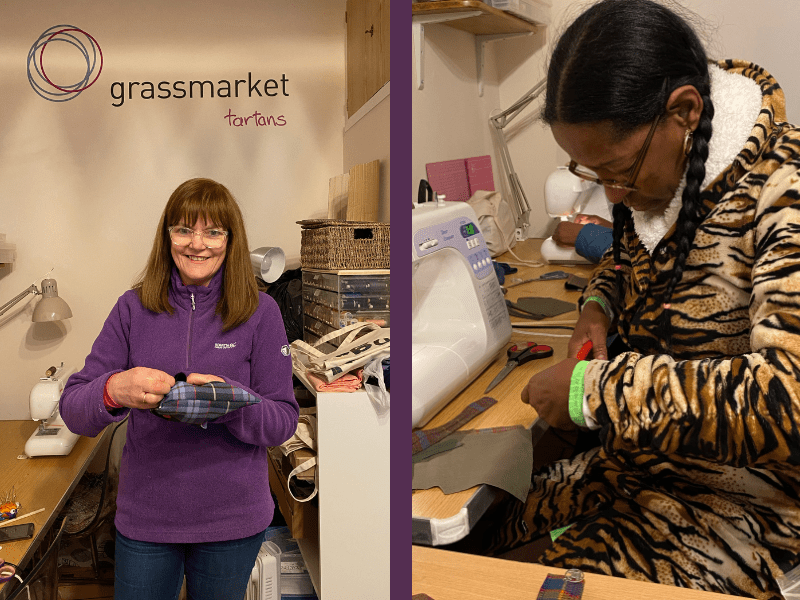 Interested in volunteering with GCP?
We are currently looking for more volunteers to support our Tartan Workshop. If you have the time and skills and would like to work with an award-winning, friendly and passionate group of volunteers, we'd love to hear from you.
All our volunteers receive ongoing support and have access to free training throughout the year.
There are lots of opportunities for individuals to participate and join in! Everyone is welcome.