We're delighted to announce we won top prize in Scotland's annual awards for innovation and success in social enterprise at the The Scottish Parliament. We won Scottish Social Enterprise of the Year. We are so proud of our members, volunteers, team and board for gaining the recognition they so deserve. Social Enterprise Scotland issued a call for applications earlier in the year, urging Scotland's social enterprises to demonstrate how they're improving our economy and society. The Grassmarket Community Project was shortlisted and pitched against two fabulous Social Enterprises: St Andrews Training & First Aid Supplies Ltd and Buth Bharraigh Ltd.
Fraser Kelly, Chief Executive, Social Enterprise Scotland, said on the night: "Social enterprises in every corner of Scotland are building a better economy and a fairer society. The Social Enterprise Awards Scotland is a unique opportunity for social enterprises to gain serious recognition for their achievements and raise their public profile. A huge congratulations to the winners and to everyone who took the time and effort to enter this year."
Jonny Kinross, our Chief Executive said: "We are so delighted to win Social Enterprise of the Year 2017. I'm so proud of our team, our volunteers, our staff but above all the members of our project who inspire and motivate us. We'd like to congratulate all the winners and finalists tonight – together we have created a sector to be proud of and proven time and time again how business can change the lives of our most vulnerable, creating a fairer, more inclusive world."
The Scottish Government Cabinet Secretary for Communities, Social Security and Equalities, Angela Constance MSP, pictured below, said:
"I would like to offer my congratulations to all the winners of this year's Social Enterprise Scotland Awards. Having recently launched a ten-year strategy to grow social enterprise in Scotland, it's vital we continue to recognise and celebrate the talent of Scotland's social entrepreneurs. Throughout Scotland, these individuals work tirelessly to improve their communities through the power of social enterprise, reinvesting all profits into social or environmental missions.
"I am pleased that this year's social enterprise census shows there are now 5,600 social enterprises in Scotland – one social enterprise for every 1,000 people. There are now more start-ups and more social enterprises trading directly with the public than ever before. Our nation is now recognised as a world leader in social enterprise, and is confirmed as host of next year's Social Enterprise World Forum. This is another excellent opportunity to put Scotland's social enterprise sector on the world stage, welcoming friends and neighbours from around the globe and celebrating all we have achieved."
By virtue of winning this award we now go through to the UK Social Enterprise Awards in London on the 23rd November 2018.
A huge thanks goes to our many funders and partners and of course our customers for helping us achieve this award but most importantly for enabling us to have the impact we desire.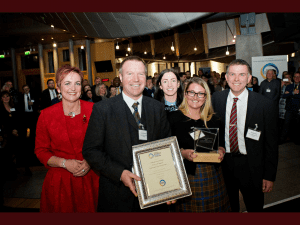 Angela Constance MSP presents to Jonny Kinross, Susan Harper, Catherine Jones and Tommy Steel at the Awards ceremony at the Scottish Parliament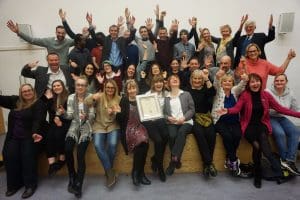 Staff team, Board members and key volunteers at the strategy day celebrate our fabulous achievement !
Check out the nominations for UK Social Enterprise of the Year – incredible standards and outstanding social enterprises and social impact:
Category 1 – UK Social Enterprise of the Year (Sponsored by NatWest)