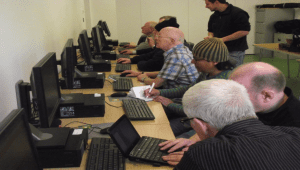 IT Tutor Sessional Worker
One group session per week (Rate of pay = £15 per hour)
We are recruiting for an Information Technology (IT) Tutor to deliver a weekly dynamic training session to our members, who are keen to learn more about email, internet and MS Office.
The key aim of the role is to enable members of the Grassmarket Community Project to increase their level of computer literacy while building up their self-esteem and confidence.
The Grassmarket Community Project is an award-winning social enterprise providing a unique blend of support and nurture for our members to enable them to reconnect and fulfil their potential.
The post is part of the 'GRAFT' scheme funded by the Social Economy Growth Fund, with a fixed rate of pay of £15 per hour. Every two-hour session will pay three hours as it includes 30 minutes either side of the session. There will also be occasionally options for extra hours for new sessions.
Person Specification
You will be required to:
• Develop a rapport and robust learning relationship with all participants
• Construct a comprehensive and detailed computing course syllabus
• Actively encourage and develop member commitment and engagement
• Identify and meet member's diverse learning, support and training needs
• Work with vulnerable adults with a wide range of learning abilities in a group setting
• Train members in non-accredited and accredited computer courses
Essentials for the role:
• Extensive experience of Community/Adult Education/Training or Group Facilitation
• Excellent interpersonal/communication skills
• High level of motivation and highly skilled in computer teaching and problem solving
• Demonstrable knowledge and understanding of computer teaching methods
• Flexible and available to work evenings and weekends
• Extensive experience of delivering non-accredited and SQA accredited computer training
To apply, please send your CV along with a covering letter, setting out how you fit the above person specification and why you are the ideal candidate for this post, to graham@grassmarket.org
Applications will be accepted up to Friday 5th October 2018