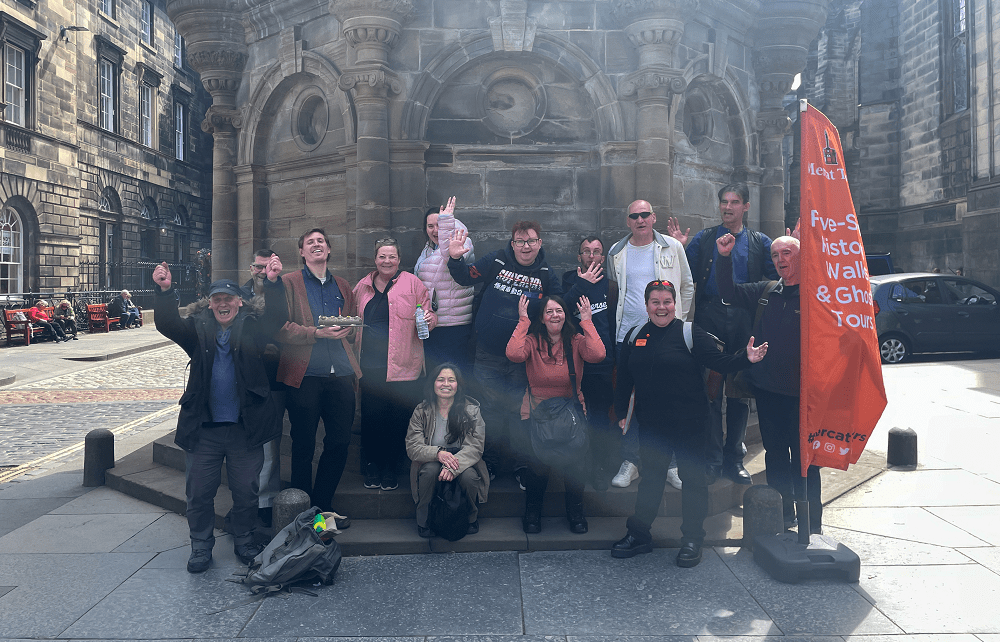 Happy 1st Birthday to
Our Stories, Your City
Time flies at GCP! As part of this month's focus on creativity, we are celebrating the 1st birthday of Our Stories, Your City our wonderful project with Mercat Tours.
Our partnership with Mercat Tours is a fantastic example of how two like-minded, creative organisations can work together. We've been doing so since 2012, and the launch of Our Stories, Your City last year marked the start of our latest new chapter together.
One year on and we're delighted to share insights into the origins of the project, its success and the positive impact it's made so far.
Thanks to Mercat's inspiring CEO and our friend Kat Brogan, and her team for all their support.
The story so far…
Central to Mercat's Mission is the drive to 'to make meaningful connections through storytelling'.  Kat Brogan explains how this core aim inspired the project,
'In 2020 the profound experience forced on us all by the COVID 19 pandemic gave everyone a far deeper understanding of 'exclusion' – from life, choices, opportunities and connections.

'This led to the idea that Mercat Storytellers can use their skills to reconnect vulnerable communities with their city through storytelling on 5 star tours. Paid for by visitors' donations and supporting local Living Wage jobs this is a win win for everyone, equally.'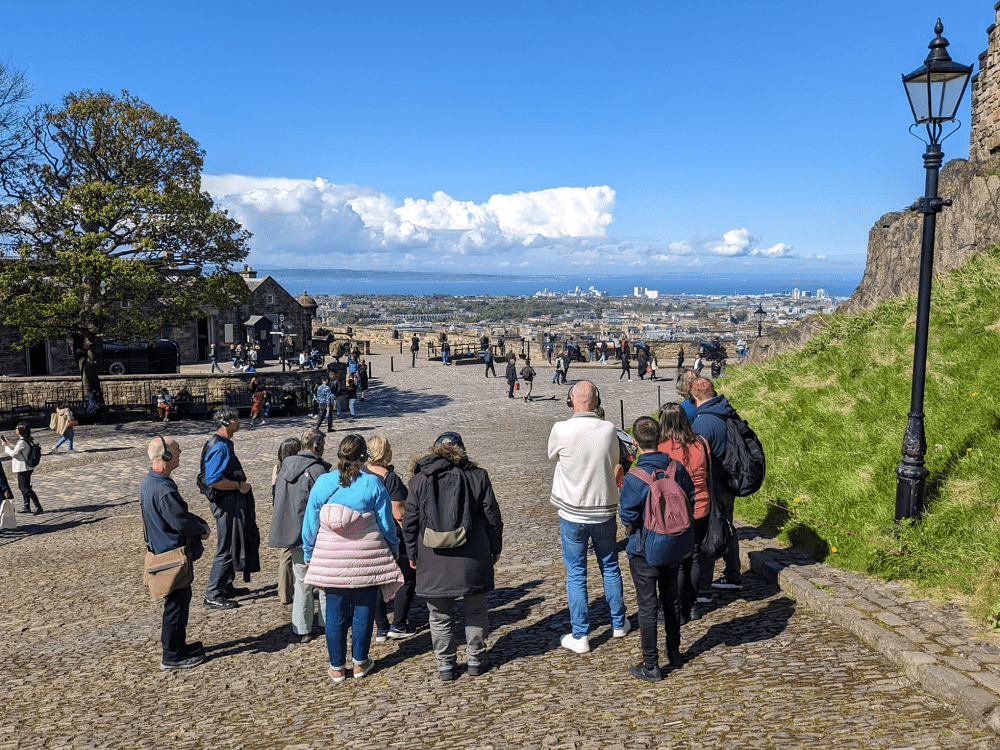 The project in a nutshell,
Stories are powerful. They make connections between people, places and the past. With this project, Mercat are helping reconnect people isolated and cut off from their city and culture.
Through an innovative new digital function, visitors buy their own 5 star tour and donate money to enable the most isolated in Edinburgh to enjoy the exact same experience. GCP Members are then supported to explore their city's attractions on equal terms – building their confidence and self-respect through the storytelling.
12 months on…
12 months on and the figures and smiles on our faces say it all, as 100% of GCP members agreed 'the experience was inclusive and my needs were met.' To celebrate, on a sunny, blustery day in Edinburgh, our intrepid Members explored their home city with Linda, one of Mercat's brilliant storytellers.
Feedback from our Members
'I really love the tours! I think the tours give a lot of people the opportunity to see, you know, their own city that they normally wouldn't have the opportunity of doing. I think it's informative, it's educational, and it's really enjoyable as well. The guides are very, very thorough. It's just so enjoyable. This is my second tour!'

'I love the architecture. Sometimes you think you know a lot about your city, and I know a fair amount but, you know, being on the tour, it's like Wow! There are certain details. Some things down at the bottom of the Canongate, something about a Moroccan ruler or something like that, you know. And I thought: 'Oh, what was this, what was this all about?' I could go on about it, I really enjoyed it. I would definitely recommend it. It's brilliant!'

'Hi, my name's Lee. Welcome to Mercat Tours! We've just done one from down the Royal Mile, working our way up to the castle now. First birthday for us! It's been great for the project. It's been great for them because we're all friends, we all help each other, we support each other, network outside the community and inside. We enjoy coming out, learning about the histories. And it's helping us with our knowledge.'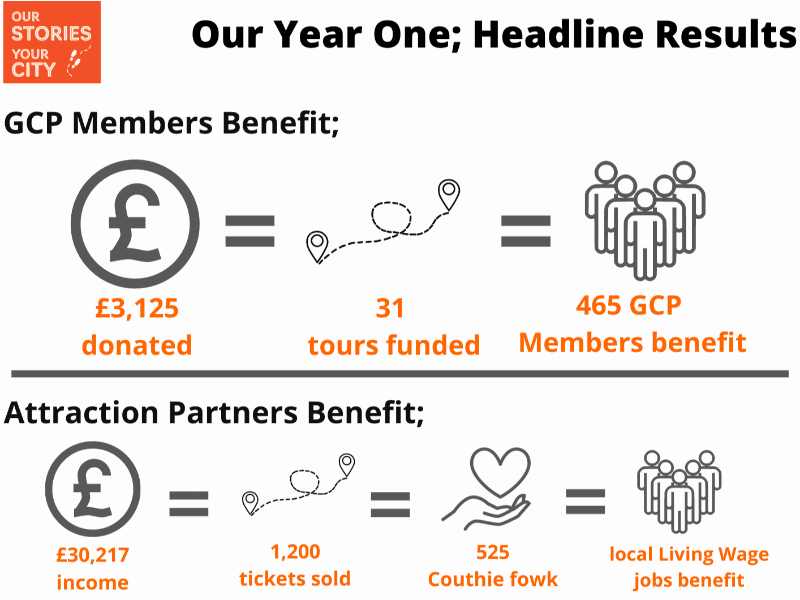 Our partnership with Mercat Tours
Established in 1985, Mercat Tours is an award-winning company leading History Walks and Ghost Tours around Edinburgh. Mercat Tours is a community-minded company and our relationship started in 2012, when Kat commissioned The Grassmarket Community Project's Wood Workshop to help kit out Mercat's offices. The project involved upcycling 9 church pews for bespoke furniture.
We continue to enjoy building on our many collaborations with Mercat Tours including Our Stories, Your City. Our Members also benefit hugely from our residentials in the Mercat House in Birnam, Perthshire where Mercat Tours kindly offer us their 13 bed private holiday home to rest and relax. Back in the city, Mercat Tours regularly sponsor activities and donate prizes to our fundraisers, including our Burns Night events.
And, as our relationship continues to go from strength to strength, we're already starting to write the next chapter, harnessing the power of Storytelling. Watch this space… 🙂
Contact Mercat Tours
" History is a damn good story.
What it needs is a damn good telling. "