**UPDATES**
Please sign up for classes, No sign up no entry! If you do not let us know you are attending and wanting lunch we cannot provide you this service that day. 
Please see below Programmes targeted for younger people (click on images to enlarge)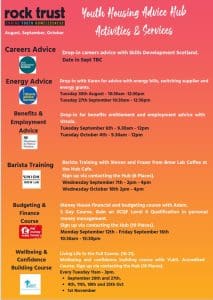 Joined Up for Jobs:

Useful Links & Resources for Members
'How to' Guides for Members & Volunteers
1. Health & Well being
2. Computing & IT
How to guide: How to Search online
How to guide: How to access online courses
How to guide: How to Set Up an Email
Safety Guides & FAQ's for Members & Volunteers
Frequently Asked Questions at the Grassmarket Community Project
IT & Computing: Keeping yourself safe online
Food Safety – Keeping Yourself & Others Safe
Keeping yourself and others safe from COVID 19
IT & Computer Skills Self Assessment Checklist
Personal Goal Setting Activity Sheet
Resources
Christmas Support in Edinburgh 2021
Members Meeting 29.10.21
Flipcharts from the group exercise:
Members were given a scenario of a new member attending looking for support and asked, 'How can we best support her and help her feel safe?'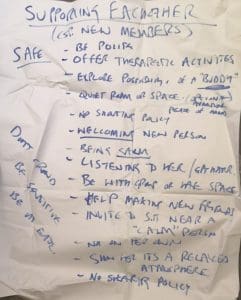 What should and what shouldn't we do?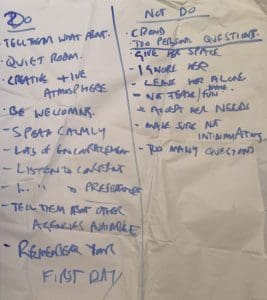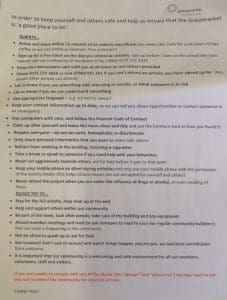 Lunches – Autumn Term
Monday
Soup – lentil [GF]
Main & Vegetarian Main – baked potatoes with choice of fillings and salad [GF]
Tuesday
Soup – vegetable [GF]
Main & Vegetarian Main – macaroni cheese and salad
Wednesday
Soup – tomato [GF]
Main – mince and potatoes [GF]
Vegetarian Main – quorn mince/veggie sausages and potatoes
Thursday
Soup – scotch broth
Main – chicken curry [GF]
Vegetarian Main- Vegetarian curry
Friday
Soup – cauliflower [GF]
Main – fish and wedges with peas and salad [occasionally scotch pie]
Vegetarian Main – veg frittata and salad
-Salad available every day – GF=Gluten Free
– We are unable to cater for all dietary requirements so if the meals above is not suitable please ask for extra soup-