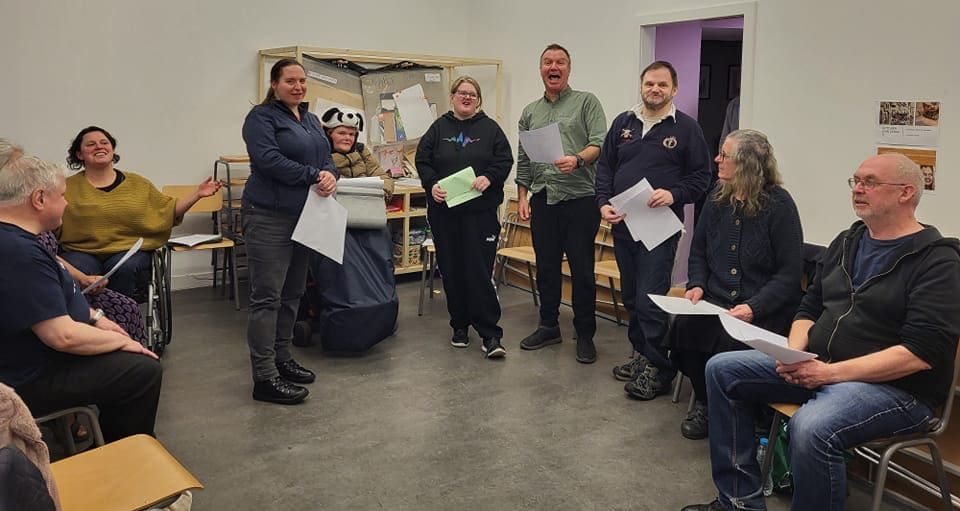 WELCOME TO OUR CURRENT MEMBERS IN-PERSON PROGRAMME
Everyone is welcome at The Grassmarket Community Project!
There are always FREE activities, workshops, events and so much more here within our community. This is our Members-only programme BUT becoming a Member is also FREE and straightforward. Simply visit the Members page to find out more.
Once you're a Member, you can book as many activities as you like from the programme below.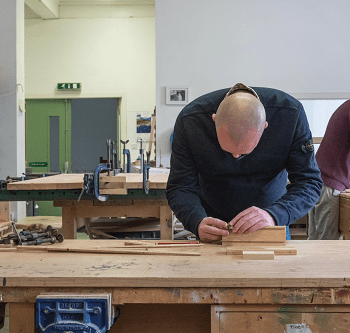 Woodwork Enterprise
Mon-Thu 10am-4pm
A workshop facilitated by Jon
Volunteer and train in our recycled wood workshop furniture social enterprise. Make a huge difference to the lives of others, by contributing to the income of the charity, learn valuable skills as well as build your confidence and be part of a fantastic and committed team. Again, its great fun and no previous experience needed—just a willingness to learn, be safe and  be a team player!
Book your place – jon@grassmarket.org or call 0131 225 3626 (option 3)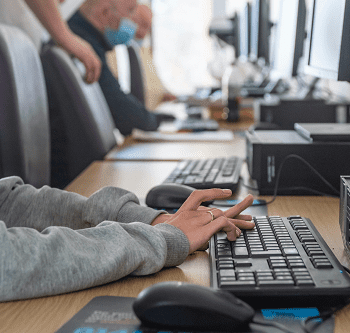 IT Skills
Mon 11am-1pm, 2pm-4pm
Facilitated by Usman and Volunteers
Come along and give your IT skills an overhaul or if you have never used IT come and learn the basics for your PC, tablet or even your phone. This is a great chance to build up your skills and learn new and exciting ways to use your devices. All levels are welcome.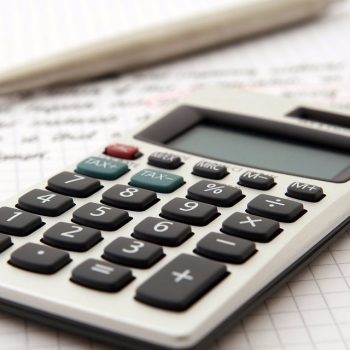 Numeracy
Mon 2pm-4pm
Facilitated by Tom
This is a great chance to learn new numeracy skills and update your knowledge of how we use numeracy every day of our lives. This can be paying bills or checking our change in shops. Come along and have fun with numbers and figures.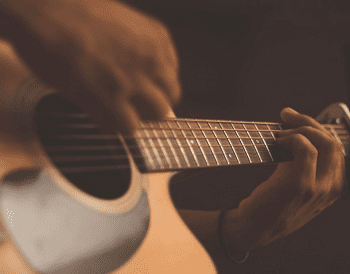 Guitar Group
Mon 4pm-5.45pm
Facilitated by Tomas
Ever wanted to learn to play the guitar or improve your playing? Join Tomas on Monday evenings to learn chords and jam with fellow guitarists of all levels. If you do not own a guitar, we may be able to help.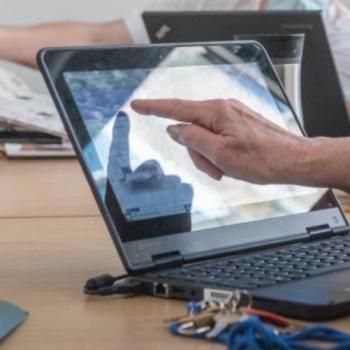 Got the Flow Online Learning
Tue 10am-4pm
Facilitated by Derek
Do you want to earn an accredited qualification, learn new skills or work towards employment? Join us in our supported, focused study space every Tuesday in the IT room to develop skills and gain accredited certificates via our Flow online learning platform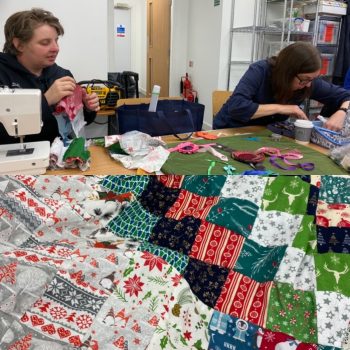 Make and Mend
Tue 11am-1pm, 2pm-4pm
Facilitated by Liz
In this group, we work towards  developing existing skills and introducing new skills in sewing, quilting, and embroidery. No experience necessary. We have a great laugh and good chat. This is a great opportunity to develop your new skills and potentially work towards put them to use in our Tartan social enterprise.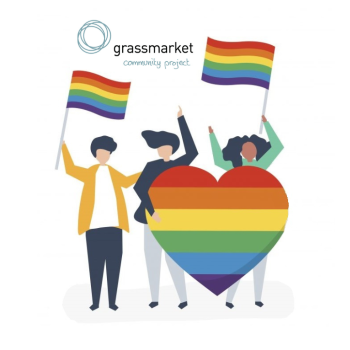 LGBTQIA+ Group
Tue 2pm-4pm
Facilitated by Scott and Volunteers
A weekly group focused on raising awareness, promoting inclusion and building connections in a safe environment – everyone is welcome to be part of this group, all genders and sexualities. Come along to be a part of brilliant discussion, visit local organisations and work towards Pride 2023!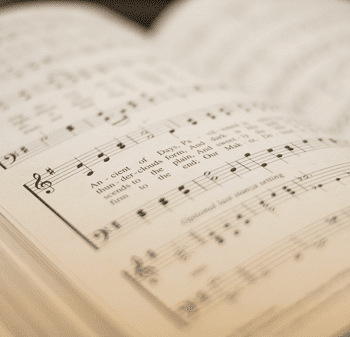 Choir
Tue 4pm-5.30pm
Facilitated by Sarah
If you enjoy singing with others, why not join the Grassmarket choir? Led by the fantastic Sarah, this choir sings a variety of music. No audition is needed — we are inclusive of all voices regardless of singing abilities or experience.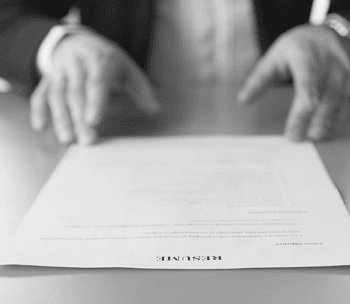 Reading and Writing
Wed 11am-1pm and 2pm-4pm
Facilitated by Nick and Rochelle
This fun group enhances reading and writing skills. Whether you are looking to learn to read and write, or an accomplished reader and writer, there is something here for you to learn. Maybe you can even earn a qualification! Additional afternoon session this term!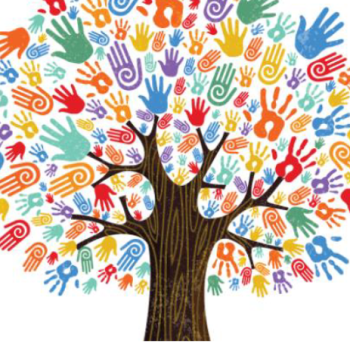 Health and Wellbeing
Wed 2pm-4pm
Facilitated by Mercy, Julia and Janis
This activity helps us to relax, deal with stress and have an overall positive view on life. Learn about how to use techniques for self help and how to deal with everyday events. Take what you learn here and use it in your own life. It's always good to have these important skills to help us through.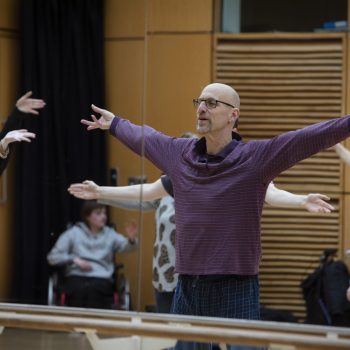 Dance Workshops
Wed 3pm-4pm (in May)
Led by Sheena Byrne from Dance Base, Scotland's National Centre for Dance 
A fun and relaxed pace dance class to enliven the body and awaken it to more movement. Leave feeling invigorated and energised, with a sense of calm and strength as you go on into your day. With great music, various dance styles, and breathing techniques to enhance your health, do come along and enjoy. We'll have fun!
No dance experience is required, and class is open to all Members. There will be options to sit or stand throughout session.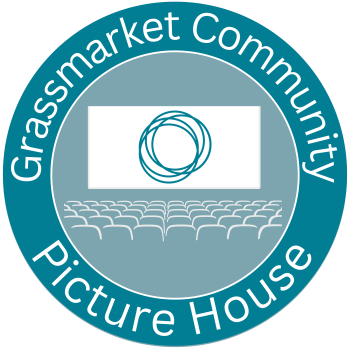 Grassmarket Community Picture House
Wed 7pm
An Open Door to Great Cinema for Everyone in the heart of Edinburgh
Please check listings and book your seats. Tickets are FREE, though if you are able to, we ask that you make a £3 donation via the contactless pay point by the front doors upon exiting the screening.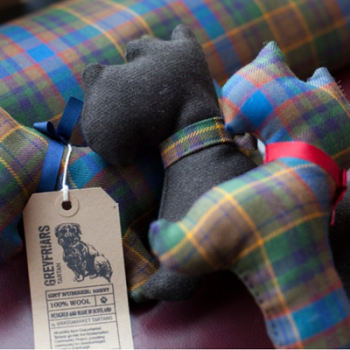 Tartan Enterprise
Thu 10am-4pm
Facilitated by Volunteers
In this social enterprise group we design and make Scottie dogs, bags and pillows and more out of our very own Greyfriars tartan. We make up and ship orders for customers from all over the world. If you think you have the skills to be part of this exciting enterprise, please get in touch with Janie – info@grassmarket.org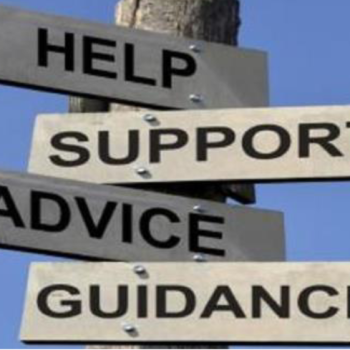 Drop-in Support
Thu 11am-1pm
Facilitated by Perry and Mercy
Each week there is a dedicated part of the programme offering one to support to members. The support is delivered on a 1st come 1st served basis and members can access direct support from Perry and our social work students to focus on practical and emotional support.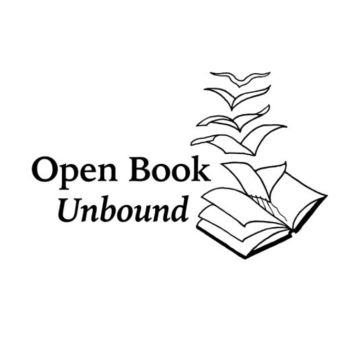 Open Book Reading Group
Thu 11am-1pm
Facilitated by Jess and Volunteers
Enjoy reading? Then come and join in our group. It is a great opportunity to read new material and meet new people.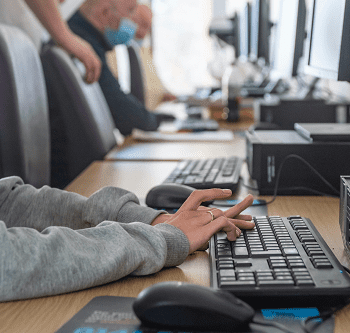 IT Skills
Thu 11am-1pm, 2pm-4pm
Facilitated by Kevin
Come along and give your IT skills an overhaul. If you are a beginner, come and learn the basics for your PC, tablet, or even your phone. This class is structured to your learning and helps you progress at your own pace. You even have the chance to get an accredited qualification.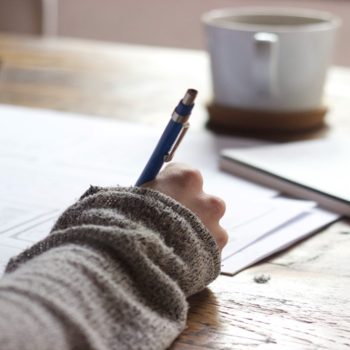 Creative Writing
Thu 2pm-4pm
Facilitated by James and Janice
Come along to Creative Writing and express yourself through the written word. Whether you are an experienced writer or new to the craft, come along to let your creativity shine through short stories, poetry, or narrative fiction.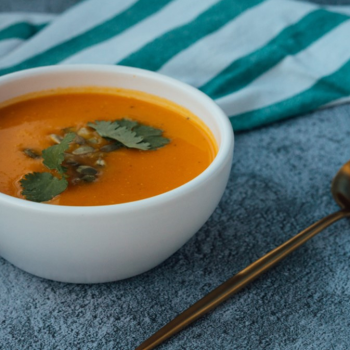 Souper Thursday
Thu 4pm-5.30pm
Facilitated by Staff and Volunteers
Join us for soup, tea and coffee, and a blether. Stay for a game of table tennis at Dr Pong's surgery, snooker, chess, and the occasional fun quiz! This is a great opportunity to get to know the other members of the Grassmarket Community Project.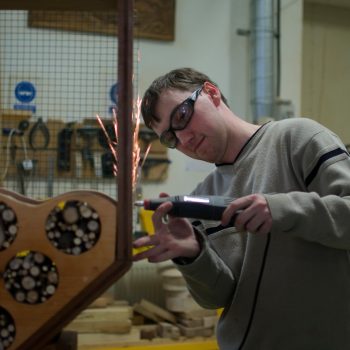 Woodwork Introduction
Fri 10am-1pm, 2pm-4pm
Facilitated by Jon
Come and try woodwork skills at our weekly Friday drop-in session (booking is essential). Learn about how we recycle church pews and learn about the tools and the types of wood. Make something beautiful on your first day! Please be aware there is a waiting list for this activity.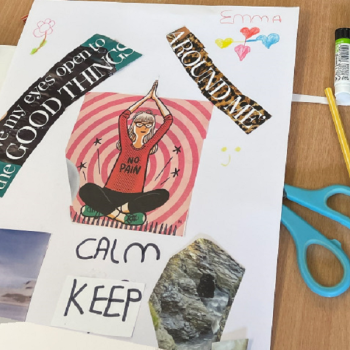 Women's Group
Fri 11am-1pm (every 2nd Friday)
Facilitated by Julia and Mercy
This group is a safe and supportive space for those who identify as women to discuss topics that matter to them. Looking at confidence building, self-esteem and supporting positive mental health.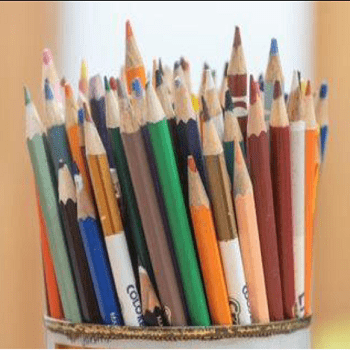 Art
Fri 11am-1pm, 2pm-4pm
Facilitated by Staff and Volunteers
Come along to our Art Class and ignite your creativity. This is a chance to let all your creative spirit run free. We use pens, charcoal, fabric, paints, and clay among other things to let our inner artist come out and express itself.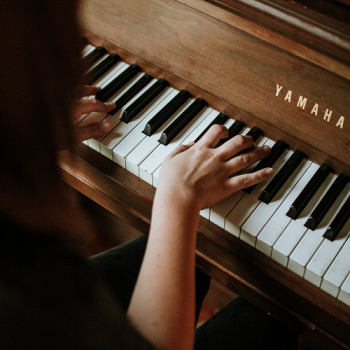 Music Group
Fri 4.30pm-5.30pm
Facilitated by Maria
Come and join our music group run by the brilliant Maria. Sing songs, create our own music while learning about different instruments and styles of music from blues, jazz and classical to Pop and world music!
More about booking:
Q – How do I sign up for activities?
A – You can phone 0131 225 3626 (option 1) OR email info@grassmarket.org OR text 07520 667354 and we'll add you. You can also sign up in an activity or class and at reception. If you do not sign up, you cannot attend the class. Make sure your contact details and emergency contact details are correct.
Q- How do I sign up for lunch?
A – You can sign up for lunch when you book a class or phone before and let us know. You must do this before 11am on the day of the activity.
Q- What if I need to cancel?
A – We are aware that things may come up and you are no longer able to attend a group. We ask that you phone reception 0131 225 3626 or you can email info@grassmarket.org to let us know you are unable to make it. Thank you.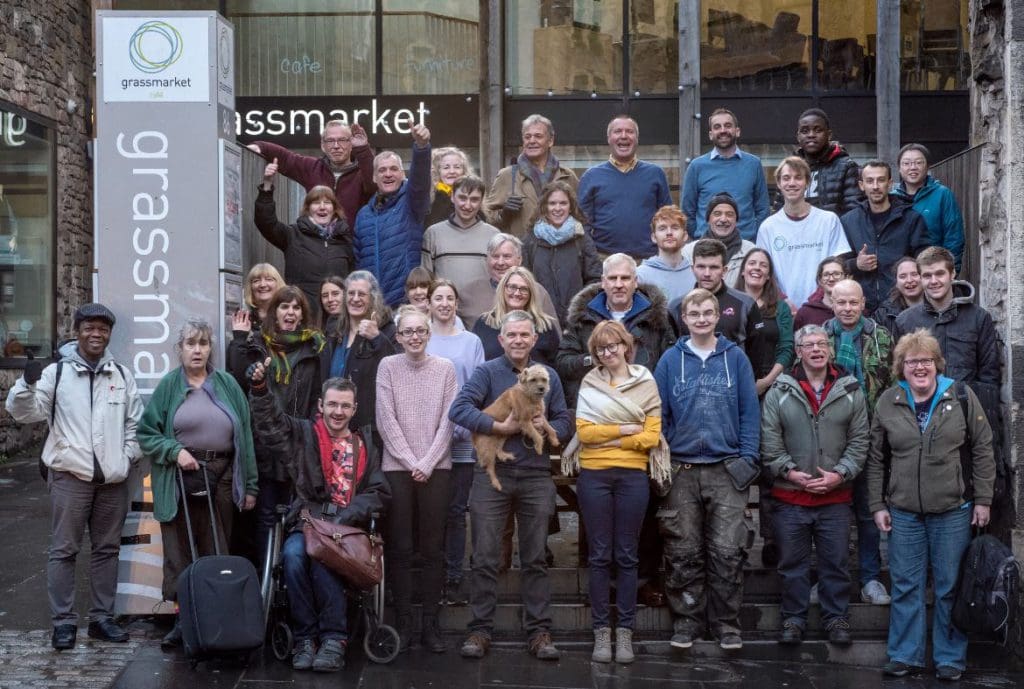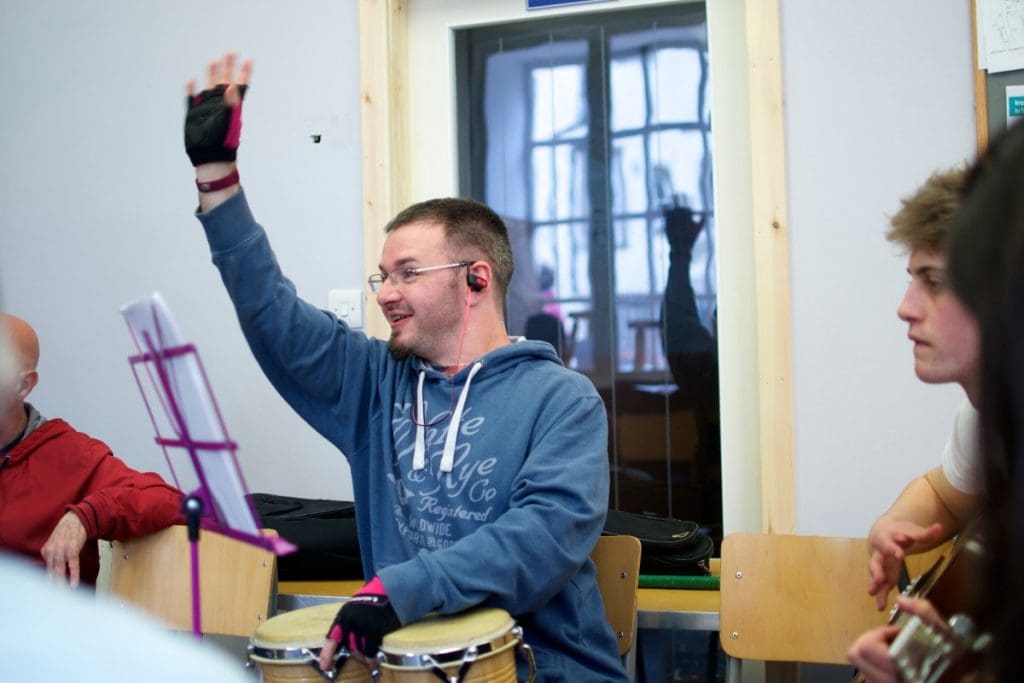 Keep in touch
Weekly Activities Bulletin
Please keep an eye out for the Weekly Activities Bulletin every Friday, via email/text, to keep up-to-date on the activities running the next week. If you do not receive one via email and/or text, please contact info@grassmarket.org or call 0131 225 3626 (option 1) and we will get it sorted!
Complaints Procedure
If you ever have any complaints or feel as though you have been mistreated or discriminated against while at the Grassmarket Community Project, please reach out to our CEO, Helene van der Ploeg at helene@grassmarket.org.