WELCOME TO OUR CURRENT MEMBERS OUTDOOR PROGRAMME
Everyone is welcome at The Grassmarket Community Project!
There are always FREE activities, workshops, events and so much more here within our community, including some great outdoor options for you to choose from. This is our Members-only programme BUT becoming a Member is also FREE and straightforward. Simply visit the Members page to find out more.
Once you're a Member, you can book as many activities as you like from the programme below.
Walking Group Meadows
Tue 10am-11am
Facilitated by Dennis and Janet
Walking as part of a group not only increases physical activity and contributes to our well-being, it also boosts our self-esteem and emotions. This is a great chance to clear your head, meet new people, and make friends.
You must book your place! See below for more about booking.
Herb Garden
Wed 11am-1pm, 2-3.30pm
Facilitated by Trudi
We are based within Greyfriars Kirk & Cemetery and we take part in developing, maintaining and enjoying the multiple herb gardens  this site has to offer. Different gardening methods and skills are developed and practised.
You must book your place! See below for more about booking.
Wild Swimming (close to Edinburgh)
Fancy a swim outdoors? Join Emma, GCP volunteer and stellar swimmer, for wild swimming. You will be provided with a warm changing robe and wet shoes. We also light a fire and enjoy some hot tea and coffee post-swim!
For more information, such as times and locations, please phone 0131 225 3626 (opt. 1) or email info@grassmarket.org.
You must book your place. Be advised that cancellations may occur due to poor weather. See below for more about booking.
More about booking:
For outdoor activities you must book your place!
Cancellations may occur due to poor weather.
Q – How do I sign up for activities?
A – You can phone 0131 225 3626 (option 1) OR email info@grassmarket.org OR text 07520 667354 and we'll add you. You can also sign up in an activity or class and at reception. If you do not sign up, you cannot attend the class. Make sure your contact details and emergency contact details are correct.
Q- How do I sign up for lunch?
A – You can sign up for lunch when you book a class or phone before and let us know. You must do this before 11am on the day of the activity.
Q- What if I need to cancel?
A – We are aware that things may come up and you are no longer able to attend a group. We ask that you phone reception 0131 225 3626 or you can email info@grassmarket.org to let us know you are unable to make it. Thank you.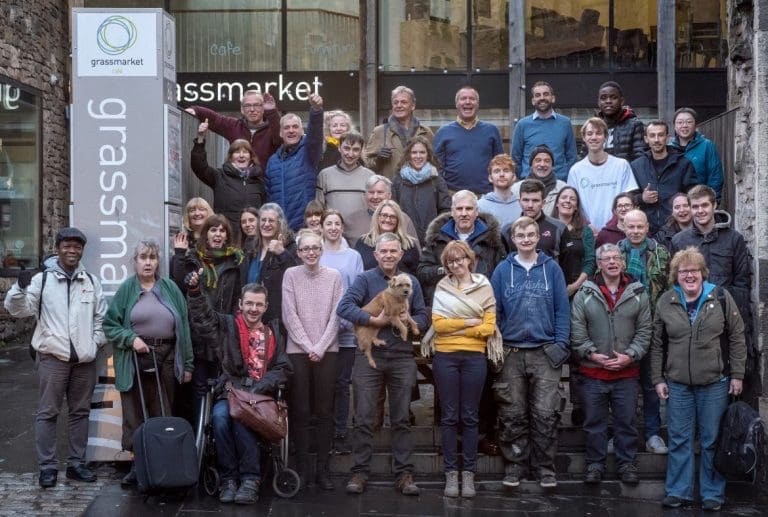 Keep in touch
Weekly Activities Bulletin
Please keep an eye out for the Weekly Activities Bulletin every Friday, via email/text, to keep up-to-date on the activities running the next week. If you do not receive one via email and/or text, please contact info@grassmarket.org or call 0131 225 3626 (option 1) and we will get it sorted!
Complaints Procedure
If you ever have any complaints or feel as though you have been mistreated or discriminated against while at the Grassmarket Community Project, please reach out to our CEO, Helene van der Ploeg at helene@grassmarket.org