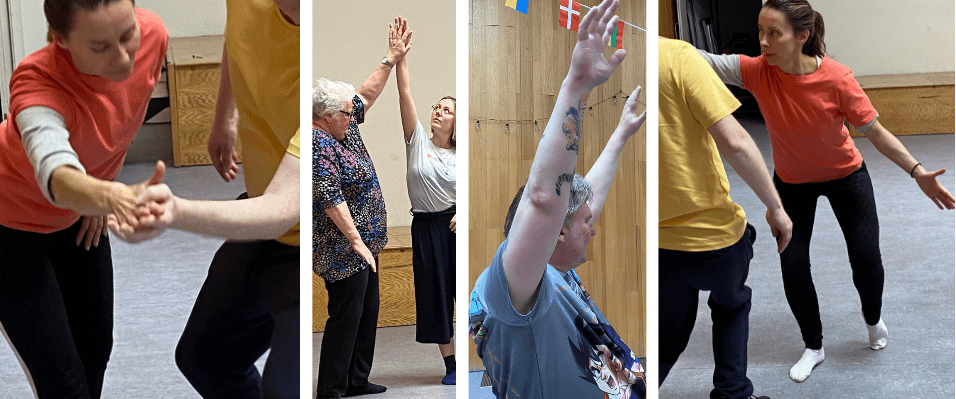 Dancing with Dance Base
Our members requested dance classes and Dance Base responded!
We are SO lucky that Sheena and Emma from Dance Base ran a series of dance workshops throughout May, here at GCP.
Our story-catching volunteer Caroline put on her dancing shoes and went along to a workshop to see how things were going…
A lovely creative group
It's week three and Sheena is amazed how open and creative our Members are,
'It's a stunning group. From the outset everyone is just so willing and up for feeling and moving to the music – this doesn't usually happen until a few weeks in. It's such a lovely creative group.'
In the warmup, Sheena and Emma join in to help ensure no one feels awkward. They encourage the group to become aware of how our bodies move and get our heart rates going.
Sheena says,
'This is the body that you have for life, so let's use it!'
From then on, everyone in the class gets stuck in, trying various individual and, when comfortable, partner and group activities. We dance to a variety of music, from Florence and the Machine to classical.  Sheena and Emma use different music to stimulate creativity and encourage movement, in different ways.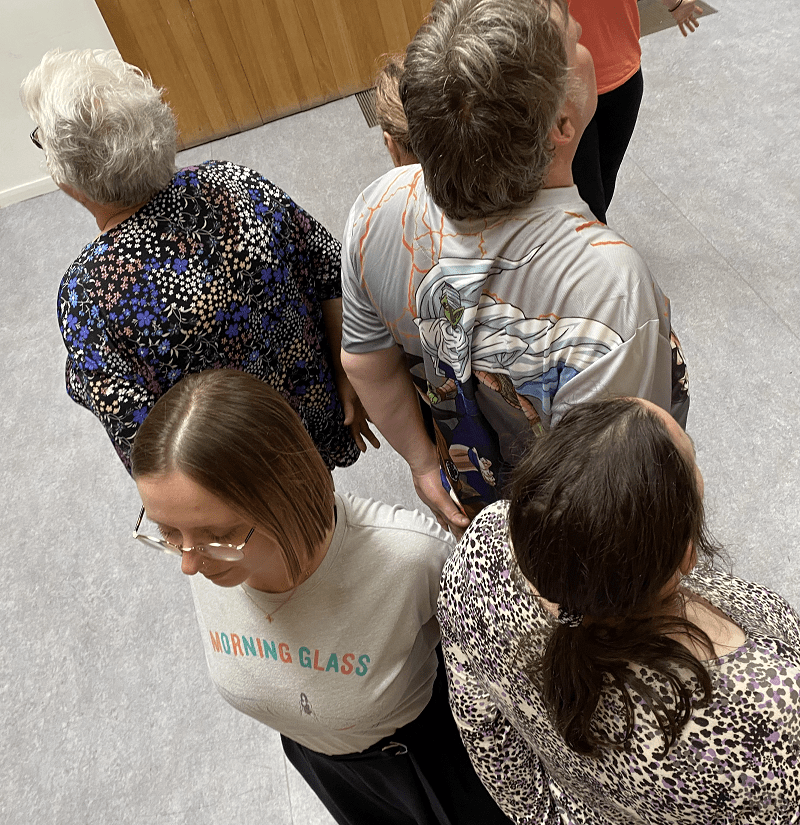 We are all born dancers
Researchers have found evidence that dancing has been a creative outlet since prehistoric times and even babies as young as 5 months old can wiggle along to the beat.
So, it's in the genes, we are all born dancers!
Dancing not only enables creative expression, it helps with concentration, body awareness and releases serotonin. It's liberating, sociable, great fun and it can help keep you supple and fit.
We agree!
There were beaming smiles all round at the end of the hour and we all enjoyed it.
Here's just a wee taste of what we thought.
Sharon loved the exercise saying,
'It's good to keep active and work out, it was really fun and made me happy.'
Chris agreed,
'It's been good. I got a bit confused at times, as I'm out of practise and haven't done any dancing for donkey's years, but I really enjoyed it.'
Sheena from Dance Base was impressed by our group dynamic,
'Everyone here cares for each other, which brings so much to the group and allows everyone to blossom.'
Elisa summed up the experience beautifully,
'Dancing touches your soul and gives you a happy feeling when you are doing it.'
Thank you Dance Base, we hope to keeeeeeeeeep dancing!
This project has been kindly supported by the City of Edinburgh Council's Community Grants programme, which is allowing Dance Base to build and strengthen new relationships with local community groups.