Creative writing
'painting pictures with words'
Creative Writing is a very popular group with our Members at GCP and currently runs on a Thursday between 2-4 pm.
As with all GCP groups, it is a relaxed and safe place to explore your creative thinking, express your ideas and thoughts on paper or laptop and let your mind and imagination run free.
As J.K. Rowling says,
'We have the power to imagine better.'
But as horror writer, Stephen King, says, 
'The scariest moment is always just before you start.'
Here's some more inspiration from a recent Creative Writing Group session…
Karen has been attending GCP's Creative Writing group for a while now and at first was very nervous,
'The group inspires me to write the best I can. Before I came, I knew nothing but I have learned a lot and I've grown in confidence.'
This new found confidence was evident when Karen opened the session by reading out her fantastic piece, 'Graveyard Walk', inspired by the theme from the previous class. You can read her work at the end of this article.
Three tricky little words
James Holdsworth, who leads the class, uses different techniques and exercises to get everyone's creative juices flowing. The first exercise used three words to weave into a story. This week it was quite challenging to incorporate endowment, compensate and involvement into the writing.
The group worked on their stories for half and hour and, those that wanted, could then share their work with the group. It was amazing that three tricky little words could generate such different writing, covering subjects as diverse as political drama, banking issues, lost and found babies, self-help/empowerment, a deathbed scene, nature and humans, airline efficiency and even a dystopian society!
The 50 word challenge
The second exercise gave the group a 50-word challenge around the word 'Coronation'. Most people focused on Charles III coronation, but some thought outside the box. Everyone enjoyed Brian's interpretation. You can see his creative thought process and the final version of his poem here.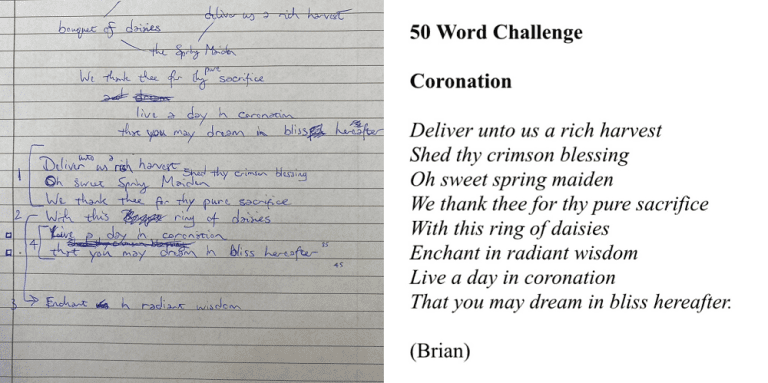 Feedback from the Creative Writing Group
Group members enjoy the process of creative writing, seeing it as fun and therapeutic. It is a very supportive environment and even if people are struggling with writer's block, they can listen instead.  As Heather says,
'Even if I'm not feeling inspired myself, I still feel inspired by listening to the others in the Group.'
Although James sees himself as just another writer rather than group leader, he does encourage everyone to 'paint pictures with words' and gives positive feedback to build confidence and ability.  He says
'Everyone comes out with such good writing and we share stories and ideas. I love seeing how people grow in confidence.'
Creative Writing is an important part of our Members Programme, and we look forward to celebrating and sharing the work of our writers, including this brilliant piece by Karen.
Graveyard Walk
'Twas a cold, windy evening. Rain was expected as Penny walked down the street towards the paved, crooked steps of the old church graveyard. Penny was dressed for the evening with her yellow raincoat on, her waterproof waders and big, black Doc Martins and a rucksack on her back. She was a medium sized, young, 21 year old with long brown hair and chestnut streaks through the layers.
Along the cobbled, old steps, she walked with her boots screeching. Penny heard the trees rustling their leaves in the wind. The wind gathered up, getting stronger and caught Penny's rucksack. It blew to a branch of a tree nearly on top of a gravestone. Penny reached to grab her rucksack. As she did, a rainstorm started. Penny tried to find her footing the branch broke and she tripped over the grave and cracked it.
Penny found herself on top of soft soil and mud. The grave was in bits and Penny fell to the top of the casket where dried roses had turned brown by the darkness and time. Penny had hurt her back in the fall so she couldn't move. It was raining very hard and Penny lay still shivering in the grave –  in the cold, wet grave.
Shortly after a young man was looking into the grave. He was part of the Edinburgh Tours Group and he read part of the broken stone to find this grave had belonged to Burke and Hare. The man ran screaming, it's alive said the tour guide. He was shocked to find a lifeless but very much alive Penny.
With the help of a stretcher and ambulance, Penny was taken to hospital and recovered with just a couple of cracked ribs but otherwise she was well. The tour guide came to see how Penny was. His name was Burke, Penny's last name was Hare, who would have believed this coincidence!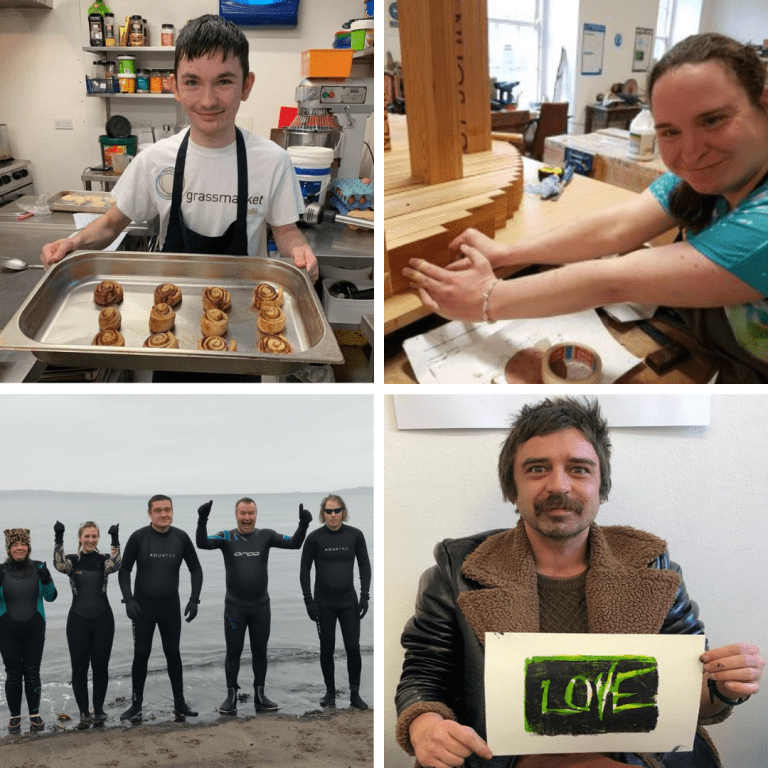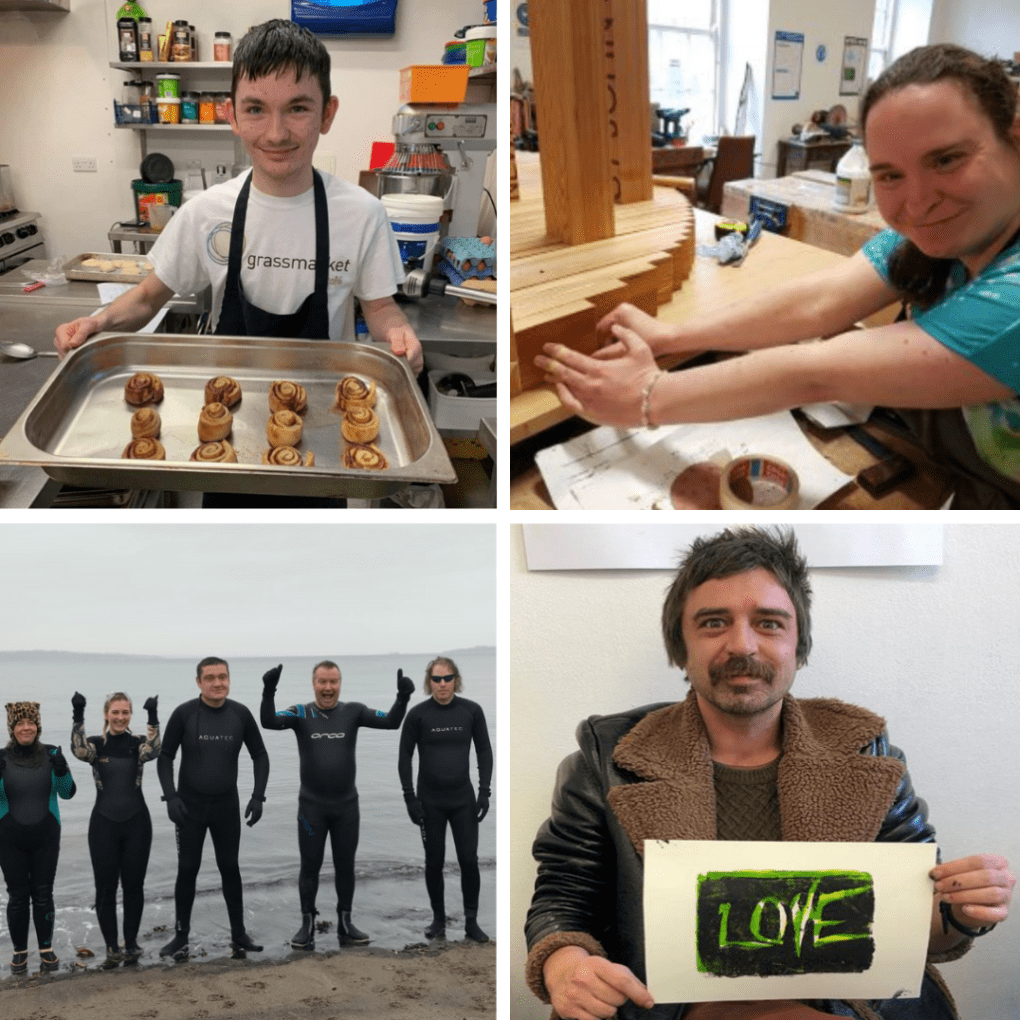 Sponsor the Members Programme
Help transform lives directly by sponsoring a Members Activity
Our Members Programme is the beating heart of what we do. Your direct support here helps ensure we continue to deliver our essential work to support the most vulnerable in our community. We guarantee at least one of our Members Activities will be the perfect fit for you or your organisation, or both!
Let's discuss which suits you best and how we can tailor the package and relationship to your budget. Join the best of company at THE good place to be.