We are very proud to announce that our CEO Jonny Kinross has been awarded an honorary doctorate from Edinburgh University for his charitable work.
Jonny has devoted his working life to charitable causes and holds the conviction that social enterprise and cross-sector collaboration can successfully transform lives and communities, and bring about positive social change.
Under Jonny's leadership the Project is current Social Enterprise of the Year Scotland, and was the first charity to receive Best Performing Business of the Year (11-50) from the ECC earlier this year. Jonny is "truly honoured to follow in the footsteps of people like Malala Yousafzai and Justin Trudeau – hugely inspiring people who have challenged the norm and inspired change."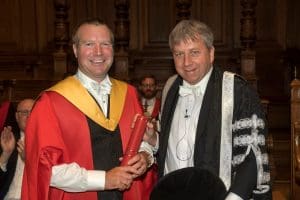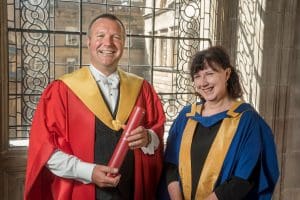 Jonny was awarded the Degree of Doctor Honoris Causa on Saturday 7 July 2018. His
Laureation Address was given by Professor Lesley McAra, Assistant Principal and she said:
"Mr Vice-Chancellor, in the name and by the authority of the Senatus Academicus, I have the honour to present for the Degree of Doctor Honoris Causa. 
Mr Kinross has devoted the whole of his adult working life to serving and supporting the most vulnerable in society.
Currently he is the Chief Executive of the Grassmarket Community Project in Edinburgh. This project takes an innovative approach to community building, providing sanctuary and support to its members, many of whom have experienced homelessness or have faced deep social exclusion. The project runs a community café, it supports woodwork and tartan social enterprises, and has developed a programme of activities (including cookery, art, drama and photography), which have been designed to enhance the life-skills and self-confidence of participants. Under the leadership of Jonny, the Grassmarket Project was awarded Scottish Social Enterprise of the Year in 2017, and, earlier this year, the Project became the first ever charity to be awarded the prestigious Best Performing Business of the Year, by the Edinburgh Chamber of Commerce.
In my capacity as Assistant Principal for Community Relations at the University, I have worked closely with the Grassmarket Project over many years, and have witnessed at first hand its transformational impact on the lives of its members. One said to me that involvement in the project was like 'moving from a dark place into the light'; another said that the project had given her 'hope for the first time ever'. Fundamentally, the Project demonstrates that creativity has a key role to play in healing and in promoting self-efficacy and empowerment; and that social entrepreneurship can provide the requisite model to sustain such practices over the longer term.
Jonny is an alumnus of the University of Edinburgh and his curriculum vitae attests to a commitment to life-long learning, gaining postgraduate qualifications in social work from the University of Glasgow in 1998, and in social enterprise from Glasgow Caledonian University in 2012. In the mid-2000s, he retrained as a plumbing and heating engineer with the aim of using such skills to establish a social enterprise employing young people and their families.
Jonny began his career working at the Royal Blind School in Edinburgh, before becoming a Director of Braendam Family House, which provides respite and support for families in poverty and crisis. For Jonny, the move to Braendam was life changing. The Directorship was a 'live-in' post and so he and his young family came to know the joys and challenges of living in a community with over 100 different families every year. In witnessing the tremendous courage and determination of these families in dealing with stigma and exclusion, he learnt how people, even at their lowest point, had still so much to offer. For him, it reinforced the need for agencies and for employers to see beyond the negative labels that often get attached to those living in the most difficult circumstances, and to recognise the capacity that all people have to contribute positively to their communities. From this point on, Jonny committed himself to seeking innovative ways to tackle major social issues, forging collaborations across the public, private, charity and social enterprise sectors. This included the establishment in 2011 of the ground-breaking MY Adventure – a social enterprise which trains and employs disaffected young people from Muirhouse and Pilton and provides them with long-term work opportunities in the outdoor activities industry.
By reminding us of the transformative power of community, and the capacity of social entrepreneurialism to support and promote individual healing and positive social change, Jonny has been an outstanding role model.
We honour today a man of compassion, a man of vision, and a man of leadership.
Mr Vice Chancellor, I now invite you to confer on Mr Jonathan David Kinross the Degree of Doctor Honoris Causa."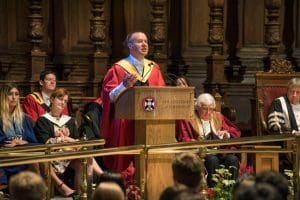 Upon receiving the award in the impressive McEwan Hall on Saturday 13th July Jonny gave the following speech to thousands of students and their families – students graduating in Literature and from the Business school at undergraduate, postgraduate, Masters and Doctorate level:
"Thank you Vice-Chancellor and thankyou to the University of Edinburgh for bestowing upon me this great honour.
I must especially thank you on behalf of my mother, here today, as I have a tiny confession to make.
Despite completing studies in no fewer than four of Scotland's Universities. I have never attended my graduation event before. I did have the excuse in 1991 that my son Jack was born in the middle of the graduations. Not literally in the ceremony, don't worry, and I am very pleased that he is also here today. I am proud of him being a graduate from this very University two years ago. So, finally, my mother gets to see me graduate. Thank you from both of us.
To everyone graduating today may I be the first to congratulate you on your tremendous achievement.
Your family and friends must all be very proud of you.
I would like to pass on special congratulations to people who may have overcome additional barriers like myself when I was an undergraduate. Who may have been the first in their family to go to university and, like me, at the time thought they were undeserving and university wasn't for them. Who didn't at first feel quite at home in the academic world yet persevered and took every opportunity they could to broaden their horizons.
This is your day. This is a fantastic achievement. But behind this day, is a journey, and let's also celebrate that. Not just the parchment or the degree. But all the wonderful, beautiful, inspirational and challenging aspects of the last few years and months of your life. Please celebrate and recognise all the steps you took.All the little achievements, all the debates, discussions, collaborations and ideas. All the people you met and friendships you made. All the authors, tutors and fellow students that inspired you, the societies you connected with, the fun you had. All the tears you cried, dilemmas you resolved and obstacles you have overcome brought you to this point. In celebrating it all. Let's remember the richness of the process, the lessons learnt and skills developed. Not just the journeys end.
When I hold this award. I am truly grateful for the people I have met on my journey. I think of the many conversations I have had with incredible people who struggled in circumstances I hope you never have to face. Homelessness, abuse, fleeing violence or persecution, mental health, people with disabilities, people ignored and disconnected from society. I have met these people and they are the story behind my degree today. This degree is a testament to people who despite being at their lowest have reached out to me and others with humanity.
This degree is also a testament to my best friend, also known as my wife, my peers and colleagues, tutors, business coaches and those who inspired and supported my development – always believing in me.
Your degree will open doors for you. But in the words of Uncle Ben speaking to spider man, not a high brow cultural reference I appreciate, "with great power comes great responsibility", well "with great degrees from great universities comes great responsibility", And I urge you, whenever you can and wherever you can, please, when you find a door now open to you, take someone with you.
It doesn't have to be giving them a job, it could simply be just talking to, or better still, listening to someone or reaching out to someone in distress and removing barriers.
I can assure you that the world will be a much better, richer, more diverse and safer place if you take someone with you through a door that you now find open to you.
Thank you for this honour.