We are delighted to announce that our community cinema – Grassmarket Community Picture House – which screens free films every week to our community won not one but two awards this year at the Cinema For All conference and UK Film Society and Community Cinema Awards 2021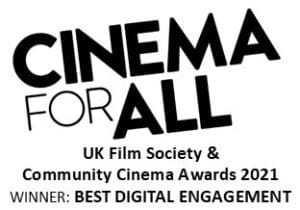 Was for Film chat session we ran throughout COVID 19 pandemic and lock downs including the distribution of free devices in partnership with Edinburgh Remakery, the free data and broadband we provided to our members and audience as well as training and tech support, special devised programmes and sensitivity to issues and trigger warnings in our home-based audience support.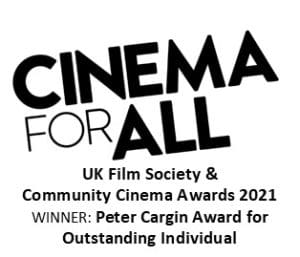 The second was an individual award, awarded to Rohan Crickmarr, our amazing Programmer and co-projectionist who volunteers and works alongside Ewan Logie – this was for his volunteering through the pandemic and running film chat sessions on line every week as well as devising a programme of free to access films and when we did open keeping our audience safe. Rohan always goes beyond the call of duty and has volunteered many many hours for our community cinema and thereby single-handedly made film more accessible to vulnerable people and people in poverty or excluded in society – to us he is a legend.