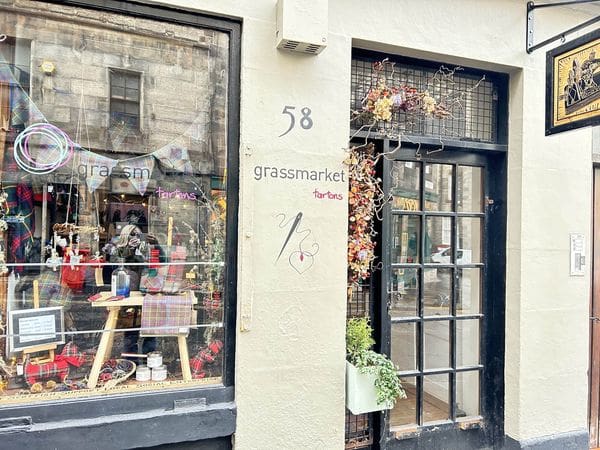 Pop into our Tartan Shop
Next time you're heading down Candlemaker Row, pop into our wee Tartan Shop at number 58. Or, make a special visit to buy something hand-crafted for a loved one this month.
Choose from our beautiful range of tartan textile products made by our Grassmarket Community Members and Volunteers. From brooches, to tea cosies and from cushion covers to scarves, shawls and bow ties, there's something to suit everyone's taste.
Opening Hours
Tue-Thu 10.30am-4.30pm
Fri-Sat 2.30-4.30pm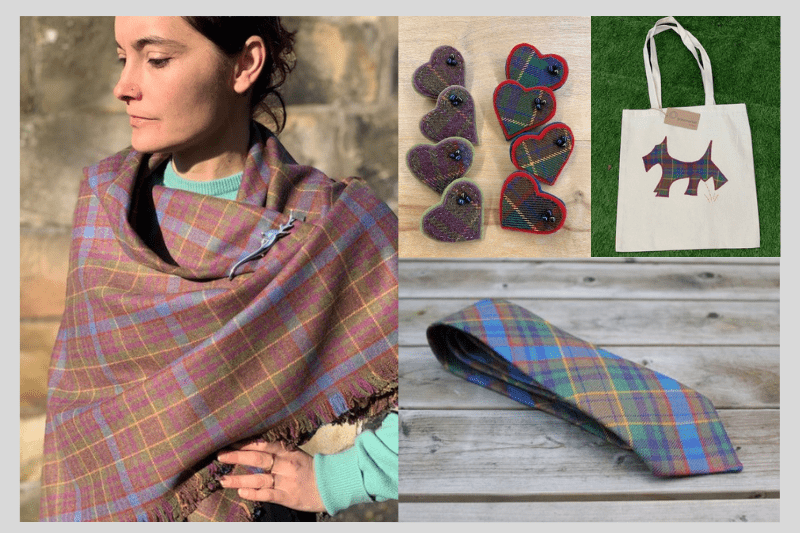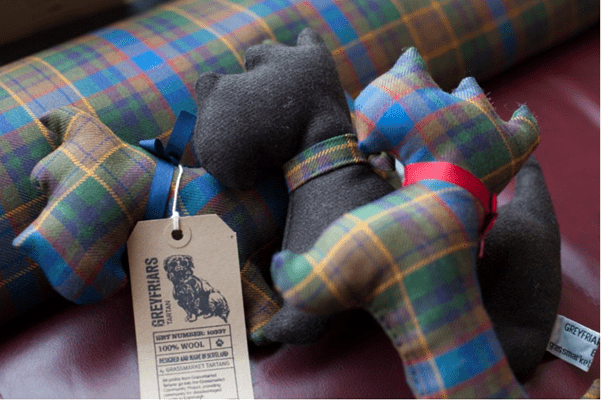 Exclusive Greyfriars Tartan
Our award-winning Greyfriars tartan is a high-quality, traditional tartan made in Scotland with 100% wool.
In 2011, a talented member of our community took inspiration from the famous local story of Greyfriars Bobby and the Kirk's history, and designed Greyfriars Tartan. The colours that make up the Greyfriars tartan represent:
Blue: Scotland's Saltire flag
Brown: the tunics of the Franciscan monks, pre-Formation residents of the site on which Greyfriarks Kirk is now located
Green: the herb gardens originally created by the monks and recently revived by the Grassmarket Community Project gardening group in the Kirkyard
Purple: Ecclesiastical celebrations of the Kirk and its royal connections (the land was gifted to Edinburgh Council by Mary Queen of Scots)
Terracotta: Lady Yester was connected to Greyfriars Kirk, and her birth village of Yester in East Lothian is celebrated for its terracotta roofs, rare in the UK
Gold: inspired by the William Blake poem 'Jerusalem': I give you the end of a gold string: Only wind it into a ball, it will lead you in at Heaven's gate, Builet in Jerusalem's wall.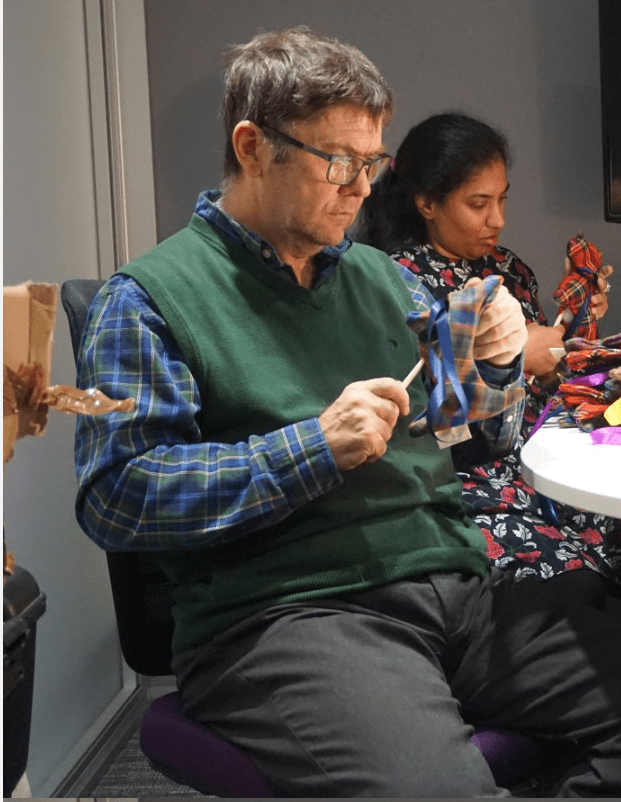 Our Tartan Group
Grassmarket Tartans is part of our members activity programme, which provides a space for vulnerable people who come to be part of a community, grow in confidence and enjoy genuine friendships.
Members of this group create a beautiful range of handmade products, developing new practical skills, such as sewing and pattern cutting, and gaining valuable life skills including working and communicating as part of a team. This helps our vulnerable members increase their employability and ability to engage with and contribute to wider society.
We make our range of gifts using the Greyfriars tartan, along with carefully selected complimentary materials. We also make products from tartans and other materials kindly donated to our community. If you would like us to make something for you out of another particular tartan, or if you have materials you would like to donate, please contact us to discuss.
We have fulfilled orders for a wide range of customers all over the world. Our tartan Scotty dogs and sashes have been given as diplomatic gifts by Scotland's First Minister in South Africa and South Korea. The talented Kilted Yogi and community friend Finlay Wilson wears one of our Greyfriars tartan kilts.