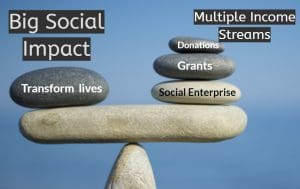 Join our team now !
We're looking for an dynamic flexible qualified experienced new member of our Senior Management Team – A Finance Manager – who's looking for a bit more of a role.
** Finance Manager – Job Description **
| | |
| --- | --- |
| Job Title: | Finance Manager |
| Project/s: | Accounts, Financial Reporting, Administration & Business Operations |
| Reporting to: | Chief Executive |
| Management responsibilities: | Finance Administrator |
| Hours & Salary: | 5 days per week £36,021 per annum + pension |
| Location: | **temporarily Greyfriars Charteris centre** From March 2022: Grassmarket Centre/ 86 Candlemaker Row, Edinburgh EH1 2QA [Blended home-working arrangement can be negotiated] |
Context:
We are looking for a Finance Manager to have responsibility for overseeing the finance function and specific governance roles and responsibilities of our organisation by managing the accounting operations, HR, IT, legal and the Company Secretarial role in order to meet legal requirements, best practice, regulatory and our responsibilities as a charity.
The Grassmarket Community Project is medium sized 11-year-old Homelessness, Mental Health and Disability charity – a community – that supports over 300 people a year in transition, in recovery or who face deep social exclusion and isolation.
The Finance Manager is an exciting new critical role to our success. This post holders' qualification, skills and experience will enable us to ensure ongoing good financial management, governance, due diligence, strategic planning as well as ensuring HR support and administrative systems are effective, best value to support our work and future sustainability. Above all, the work of the Finance Manager will support the charity to transform the lives of many of our city's most vulnerable.
Purpose of the Role:
To provide an efficient and effective finance function, business support and good governance for the organisation and to ensure reliable and accurate financial records are maintained and reports are compiled regularly to assist the Chief Executive, Senior Management Team and the Board of Directors to plan and execute spending and measure performance against targets and budgets.
The post holder will be required to work from the office, home and attend meetings. The postholder will provide 1 day a month support and oversight of our current Bookkeeping service (provided to Greyfriars Charteris centre) and Payroll service (provided to Greyfriars Kirk & Greyfriars Charteris centre)
Main Duties:
The successful candidate should demonstrate an ability to manage the accounting, strategic aspects as well as operational activities, including financial and management accounting and reporting, reporting on and co-ordination of the fundraising team, Social Enterprise business administrative systems and HR processes. They should also have excellent organisational skills and be able to handle time-sensitive tasks. They must have experience with VAT returns, audits and budget preparations within a charitable or social enterprise setting. They should have an excellent track-record of managing systems and overseeing operations as well as being adaptable and have a flexible approach as to where they are most effective and best support the strategic objectives of a small to medium sized charity.
Ultimately, they will be responsible for the production of management accounts, budget and cash flow projections in partnership with our Chief Executive and Treasurer, providing them with the data required to report to our Board and make recommendations based on our financial position and advise on any appropriate courses of action. They will also be responsible for board communications including company secretarial duties, as well as have a lead role for HR management, collaborating with Fundraising and supporting with social enterprise commercial management tasks, in partnership with the Social Enterprise Director.
Responsibilities:
Ensuring financial controls and systems are regularly reviewed, that records of financial transactions are kept accurately and timeously with sufficient checks to satisfy all stakeholders.
Overseeing the month end process and production of management accounts including variance analysis, and reports on a regular basis.
Leading on the budget planning and preparation process, and ongoing updates on budget projections, as well as assisting with the production of strategic and business plans.
The production and submission of VAT returns and Gift Aid claims.
Line managing the Finance Administrator to ensure all his/her duties have been carried out timeously and accurately, and supported to continuously develop in the role.
Lead role in the preparation of accounts for the year end annual audit process, providing information to the auditors to ensure that the statutory Audited Accounts are completed accurately and within agreed timescales.
Oversee the reconciliation of bank accounts and all other balance sheet accounts and have individual responsibility for the Fixed Assets, VAT and Deferred Incomes accounts.
Preparation of cash flow forecasts and projections.
Support the Finance Administrator with the monthly payroll process, prior to approval by the Chief Executive, and ensure that payments and returns to HMRC are completed as required.
Review and develop financial policies and procedures to ensure operational efficiency and safeguarding of funds.
Work with the Fundraising team and assist with preparing reports for funders and where applicable, ensuring compliance with procedures to ensure funding is granted.
Communicating with the Fundraising team on priorities and collaborating to ensure delivery of funding for the charity's services and support.
Ensuring all HR systems – recruitment, policies and best practice are followed, monitored and up to date, and have a lead role in supporting the team with any HR related matters.
Ensuring all HR records are up to date and stored safely.
Ensuring all data and IT systems are maintained and up-to-date.
Ensuring all insurance, licencing and legal responsibilities are renewed and fit for purpose.
Company secretarial role– including maintaining risk register and along with the CEO and Chair arranging dates of meetings, and ensuring agendas and reports are circulated in advance and after meetings.
Support and oversight of our current Bookkeeping service (provided to Greyfriars Charteris centre) and Payroll service (provided to Greyfriars Kirk & Greyfriars Charteris centre) [1 day a month]
Any other duties commensurate with the role.
Requirements:
Full or Part Qualified Accountant with experience within a similar environment – essential
Proven work experience as a Finance Manager/Accountant or similar role – essential
Solid knowledge of financial and accounting procedures – essential
Experience using Xero financial software – essential
Experience using payroll software – essential
Advanced MS Excel skills – essential
Experience of using cloud-based systems (such as OneNote, Teams, Zoom, OneDrive) – essential
Flexible & adaptable – able to be a supportive/responsive member of the SMT & leadership team – essential
Sharp time management, organisational skills and the ability to prioritise – essential
Strong ethics, with an ability to manage confidential data – essential
Knowledge of financial regulations within a charity / social enterprise – desirable
Experience of trust income reporting – desirable
Experience of supporting direct reports – coaching and leadership skills – desirable
Experience and understanding of the challenges and strengths of working in a Third Sector agency – desirable
To apply
Please email your CV (4 pages maximum) and a personal statement (2 pages Maximum) to jonny@grassmarket.org
CLOSING DATE & TIME: 12 MIDDAY – Monday 10th January 2022
Note: Interviews will be held on Friday 21st January 2022 if you are successfully shortlisted. Please let us know in your covering email if you cannot attend that day.