All films screen Wednesday evenings at 19:00 7pm after the Grassmarket Community Projects Open Door Meal. Below are the dates, information and where available links to our EventBrite

booking pages for each screening
All our screenings are free but we do ask if you are able to donate please use our contactless pay point by the front door on exiting the screening, or the the large donation 'bucket' or donate here.
All Screenings are at 19:00 7pm and there are no trailers and late comers may not be admitted.

25th January 2023
Sisters with Transistors (2020)
Documentary, 86mins, PG, UK / Fra / US
Dir: Lisa Rovner
Lisa Rovner's groundbreaking documentary about early female pioneers in electronic music is a must-see for anyone who likes their music from well off the beaten track. The film is narrated by avant-garde darling Laurie Anderson and features musicians and innovators including: Delia Derbyshire, Pauline Oliveros, Clara Rockmore and Laurie Spiegel.
Notes: Mild sexual references, mild foul language

Documentary, 84mins, 12, Aus
English / Arrente (with English Subtitles)
Dir: Maya Newell, Dujuan Hoosan, Carol Turner, Megan Hoosan, James Mawson, Margaret Anderson, Jimmy Mawson
Dujuan, a 10-year-old Arrernte/Garrwa child is failing at school. Despite speaking three languages, being a child-healer and an accomplished hunter, he finds the school system alienating. Frustrated he gets mixed up with the law. Filmed in direct collaboration with the community it depicts this is a powerful documentary about education.
Notes: Contains depictions of racism, colonialism and state-instituted violence. Contains discussion of substance abuse and suicidal ideation. Features some foul language and rude gestures.
——–
8th February – Youth Screening (TBC)
The second week of each month is now going to be handed over to our young programmers to screen the latest cracking comedies, action blockbusters or superhero films they have selected. These will be confirmed online at www.grassmarketfilms.org for each month, through to June, with the exception of March.

15th February-  Delicatessen (1991)
Action / Comedy, 99mins, 15, Fra
French (with English Subtitles)
Dir: Marc Caro, Jean-Pierre Jeunet
Starr: Dominique Pinon, Marie-Laure Dougnac
After 8 years the founder of Grassmarket Community Picture House is leaving us. As a going away gift, we have selected to screen one of his favourite films and an early GCPH screener, in this brilliantly bonkers French surreal action/comedy about a landlord with a peculiar culinary taste.
Notes: Contains strong sequences of comic horror, an intense and frantic pacing, and themes of suicidal ideation and cannibalism.

22nd February – King Richard (2021)
Biopic, 144mins, 12, US
Dir: Reinaldo Marcus Green
Starr: Will Smith, Aunjanue Ellis, Saniyya Sidney
A carry over from last season's programme when it had to be cancelled last minute. This is a biopic about the life of Richard Williams' the uncompromising father of tennis champions Venus and Serena, featuring an Oscar-winning performance from Will Smith in the titular role.
Notes: Moderate violence and threat, issues of racism and domestic violence, infrequent strong language

1st March – Brian & Charles (2022)
[National Science Week Screening] Comedy, 90mins, PG, UK
Dir: Jim Archer
Starr: David Earl, Chris Hayward, Louise Brealey
Jim Archer's whimsically hilarious feature debut is perfectly calibrated for our post-Covid reality. Brian is in a deep depression, home alone with nobody to talk to. But if you can't make new friends maybe you can build them, which is exactly what Brian does in the form of his robot chum Charles.
Notes: A very mild sense of threat, occasional violence and strong language. Deals with themes of depression, mental health and social isolation.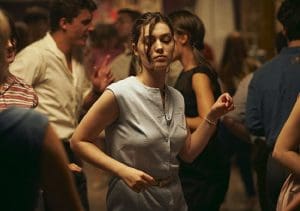 8th March – Happening (2021)
[International Women's Day Screening]
Drama, 100mins, 15, Fra
French (with English Subtitles)
Dir: Audrey Diwan
Starr: Anamaria Vartolomei, Kacey Mottet Klein, Luàna BajramiWith the recent overturning of abortion laws in the US and Poland Audrey Diwan's powerful adaptation of Annie Ernaux's best-selling novel takes on an even greater relevance. The film looks back on the experience of having an abortion in the 1960s when it was still illegal in Catholic France.
Notes: Features scenes depicting the process of abortion, scenes of graphic sex and nudity.

15th March – The Banshee's of Inisherin (2022)
[St Patrick's Day Screening]
Drama / Tragicomedy, 114mins, 15, Ire / UK / US
Dir: Martin McDonagh
Starr: Colin Farrell, Brendan Gleeson, Kerry Condon
Two lifelong friends find their relationship flailing when one of them decides to bring it abruptly to an end. From out of the wreckage of this friendship the ominous sounds of disaster emerge. Martin McDonagh reunites with his IN BRUGES leading men for this bleak comedy of endings.
Notes: Features strong language throughout, graphic depictions of injury and scenes of domestic abuse.

22nd March – The Forgiven
Drama, 117mins, 18, UK / US / Can
Dir: John Michael McDonagh
Starr: Ralph Fiennes, Jessica Chastain, Christopher Abbott
With his brother's latest film screening last week, GCPH is now pleased to present John Michael McDonagh's (THE GUARD) latest acerbic slice of dark drama. A group of decadent western visitors have a party in Morocco's High Atlas Mountains disrupted by a fatal accident, with dire consequences for all concerned.
Notes: Features scenes of drug misuse, as well as moments of violence and stress-inducing tension throughout.

29th March – Kimmapiiyipitssini: The Meaning of Empathy (2021)
Documentary, 125mins, E, Can
Dir: Elle-Máijá Tailfeathers
(with English Subtitles)
An intimate portrait of Kainai First Nation community made by one of its members. This documentary focuses upon the impacts and effects of the substance epidemic upon this Canadian community, as seen through the eyes of those trying to help diminish the effects of substance-use disorder.
Notes: Features scenes of drug misuse and themes of drug dependency and associated mental health issues.

5th April – Moonage Daydream (2022)
Documentary, 140mins, 15, Ger / US
Dir: Brett Morgen
The director of COBAIN: MONTAGE OF HECK, Brett Morgen, was given unprecedented access to David Bowie's personal archive, resulting in this eye-popping visual treat of a film exploring the creative and musical journey of the late, great music and fashion trendsetter.
Notes: Contains some strobe-lighting effects and brief scenes of strong sexual content.
——
12th April – Youth Screening (TBC)
See notes from 8th February.

19th April – The Big Heat (1953)
[Classic Hollywood Screening]
Film Noir, 89mins, 15, US
Dir: Fritz Lang
Starr: Glenn Ford, Gloria Grahame, Jocelyn Brando
Legendary German émigré filmmaker Fritz Lang directs this gripping film noir that gave Glenn Ford possibly his finest role as tough-guy cop Dave Bannion going hell for leather to bust an inscrutable and politically powerful crime syndicate. This is the 70th anniversary of a film that is ripe for rediscovery.
Notes: Features implied and explicit violence and tension and features themes of drug use and corruption.

26th April – The Unbearable Weight of Massive Talent (2021)
Action / Comedy, 107mins, 15, US
Dir: Tom Gormican
Starr: Nicolas Cage, Pedro Pascal, Tiffany Haddish
English & Spanish (with English Subtitles)
Nicolas Cage has long become a hilarious parody of himself, the source of a million and one memes and GIFs. In Tom Gormican's explosive goofball action-comedy he literalises this parodic persona as Nick Cage a cinematic icon caught between an absurd superfan and a dangerous CIA agent.
Notes: Features strong language, drugs misuse, casual acts of violence and brief sex references.

3rd May – A Bunch of Amateurs (2022)
Documentary, 95mins, 12A, UK
Dir: Kim Hopkins
One of the very best British documentaries of last year, this thoughtful, empathetic and very, very funny film takes a look at the Bradford Movie Makers, an amateur filmmaking club that has been in existence since 1934. Hopkins' film knows it's subject so well that you cannot help but came away charmed by this bunch of amateurs.
Notes: Features some strong language, moderate sex references and reference to drugs and drug dependency.
—–
10th May – Youth Screening (TBC)
See notes from 8th February.

17th May – Nope (2022)
Horror, 130mins, 15, US / Can / Jap
Dir: Jordan Peele
Starr: Daniel Kaluuya, Keke Palmer, Steve Yeun
The latest weird and wacky offering from the twisted mind of Jordan Peele (Get Out, Us) features Daniel Kaluuya and Keke Palmer as horse-wrangling siblings who are searching the Midwest for evidence of UFOs. Billed as a horror film, this is at the weird end of that genre and suitable for most audiences.
Notes: Features strong language, constant atmosphere of threat and bloody / gory images.

24th May – Closely Observed Trains (1966)
[Classic European Cinema Screening]
Comedy / Drama, 92mins, 15, Cze
Dir: Jiri Menzel
Starr: Václav Neckár, Josef Somr, Vlastimil Brodsky
Czech & German (with English Subtitles)
A bittersweet comedy classic of Cold War-era Czechoslovak cinema, this gorgeous adaptation of Bohumil Hrabal's award-winning novel tells the story of a novice train dispatcher exploring his sexuality when deployed to a small village station in the middle of nowhere.
Notes: Contains moderate scenes of a sexual nature and frequent references to sex.

31st May – TBC – Winners (2022)
Family Drama, 85mins, PG, UK / Iran
Persian (with English Subtitles)
Dir: Hassan Nazer
Starr: Hossein Abedini, Mahmoud Jafari, Shahrzad Kamalzadeh
A heart-warming family drama set in a provincial Iranian town where some local children discover a precious Oscar statuette. This crowd-pleasing film was one of the highlights of last year's Edinburgh International Film Festival and is a joyous ode to cinema and childhood obsession, produced by Glasgow-based producer Paul Welsh.
Notes: The film contains sexual references and infrequent foul language.

7th June – American Graffiti
[Classic Hollywood Screening]
Comedy / Drama, 110mins, PG, US
Dir: George Lucas
Starr: Richard Dreyfuss, Ron Howard, Cindy Williams
This is the 50th anniversary of that rarest of rare Hollywood beasts, a George Lucas directed film that isn't Sci-fi or Fantasy. In this ode to his own teenage years in and around Modesto, California, Lucas introduces us to a group of high school graduates in 1962, cruising for adventure out on the strip.
Notes: Features moderate sex references and outdated views on women, as well as foul language.
——-
14th June
Youth Screening (TBC)
See notes from 8th February.

21st June – All the Beauty and the Bloodshed (2022)
Documentary, 122mins, 18, US
Dir: Laura Poitras
Laura Poitras follows-up her documentaries on Assange and the Edward Snowden affair, with this award-winning portrait of the photographer and activist Nan Goldin as she spearheads a resolute campaign against the Sackler family and their pharmaceutical dynasty – heavily implicated in the rising opioid epidemic in the US.
Notes: Features explicit scenes of a sexual nature, as well as themes of drug abuse and misuse.

28th June – The Fablemans (2022)
Drama, 151mins, 12A, US / India
Dir: Steven Spielberg
Starr: Michelle Williams, Paul Dano, Judd Hirsch
Steven Spielberg cements his reputation as one of the greatest living American filmmakers with this account of his own post-WWII childhood growing up in a Jewish family in Arizona. This is the filmmakers most personal film for decades and features stunning performances from the likes of Williams, Dano and Hirsch.
Notes: Features themes of family trauma as well as moderate scenes of a sexual nature and issues surrounding antisemitism.