There can't be many places in Edinburgh where all residents are invited to come along for a meal every Wednesday, but the Open Door Meal at The Grassmarket Community Project does just that!
The Centre has been serving meals since it opened. In 2022 alone, it is estimated that over 1650 meals were served by over 60 volunteers.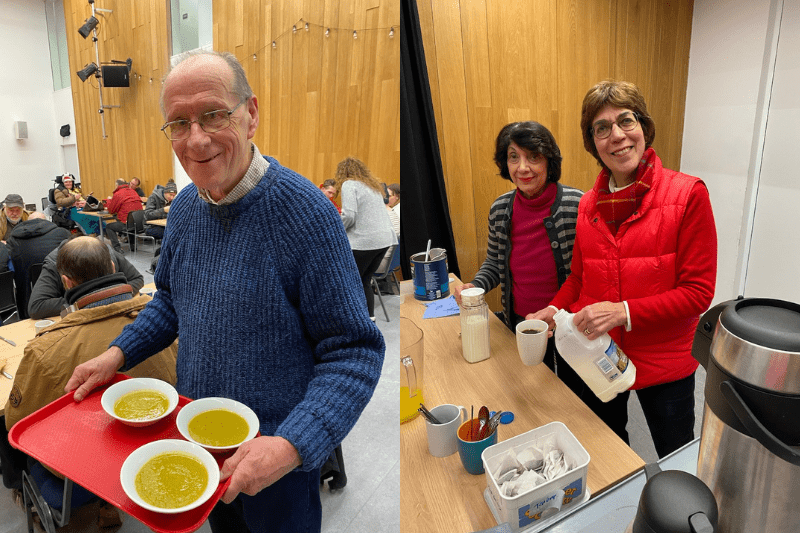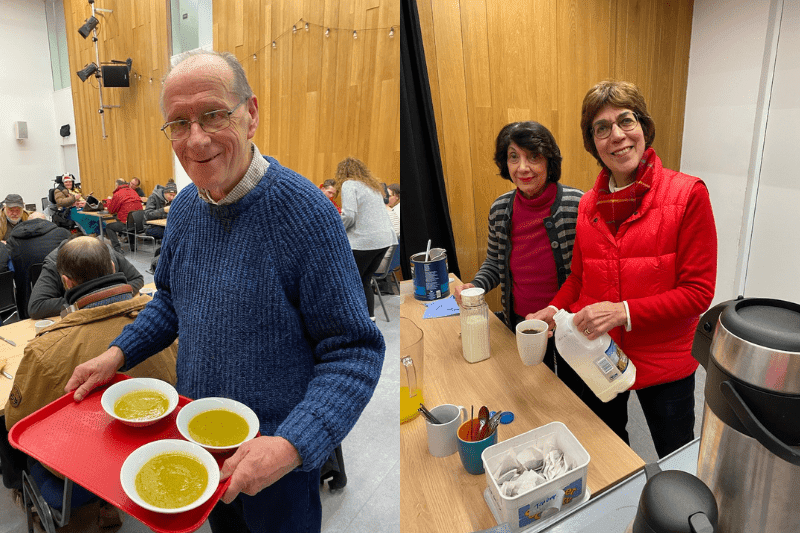 Open Door Meal
Wednesdays 5-6.30 pm
An Open Door Meal is available to everyone; Members, staff, volunteers and especially people across the city experiencing homelessness, temporary or vulnerable housing.
There are around 6 to 8 volunteers each week, who work together as part of a well-organised team, attendees vary depending on availability and there are often new people joining.
A big thank you to all our Volunteers, we couldn't do it without you!
The volunteers who arrive early put out cutlery and arrange the dining room for up to 40+ diners. There is then a briefing from Volunteer Manager, Kevin, on the menu for the meal and everyone is given their role, from serving teas, coffees and juices, to waiting on designated tables, walking the floor with bread, butter and condiments and, of course, washing up.
When the main doors open at 5pm, the room transforms and the kitchen door starts to swing open for the next hour and a half as plates of food go out and empty plates go back in.
There is always an eclectic and interesting mix of people volunteering. This week the team included Liz, a retired schoolteacher and a well-known volunteer at GCP. She is a seasoned regular on a Wednesday who can help new people gain confidence, she also helps Kevin manage the session. Other seasoned volunteers are Tori and Faith, good friends who volunteer together and the best tea ladies in the business. Similarly retired couple, Duncan and Eleanor regularly enjoy volunteering together. Others come along for so many different reasons, such as Melissa who moved to Edinburgh from the USA recently and is keen to get involved in the Edinburgh community and meet new people.
There is always great support from a range of past and current students like Isabella and Marta who want to get to know their adopted city better and give back to the community. Taylor is working towards his Highers and hopes to study medicine, so he is gaining useful work experience. Often graduated students continue to volunteer. Sushrith, who now works for the Civil Service, still tries to support Open Meal Wednesday. Our resident social worker students on work placement, Gordon and Ahmed, are also there to lend a hand.
Everyone says they enjoys the bustle and friendly vibe, as well as chats with each other and the diners. There are some great photos from our most recent Open Door Meal below.
Anyone can volunteer for Open Meal Wednesday, so if you have been thinking about volunteering at GCP this may well be the very best place to start!
Just £10 pays for 4 people to have a hot 2 course meal. Please help support our work >>
Photos from last Wednesday's Open Door Meal
Students Isabella and Marta working hard
Duncan likes the look of the soup. Friends Tori and Faith serving drinks
Liz in charge of the dishwasher!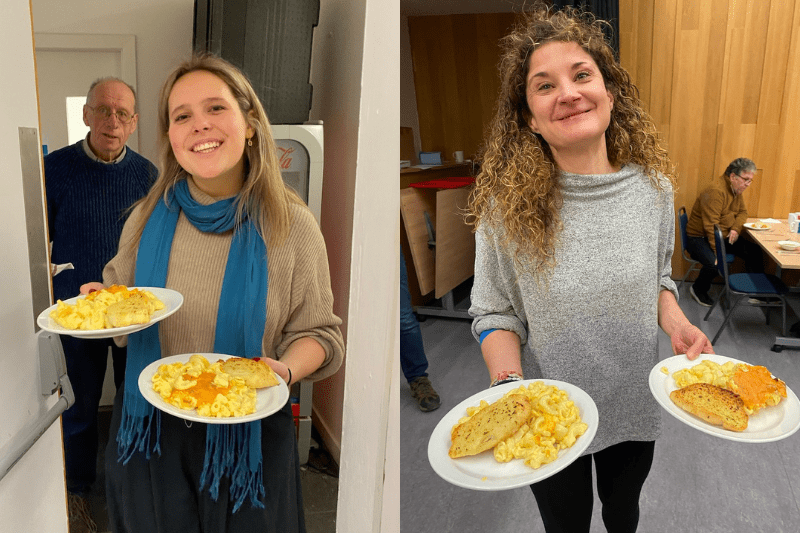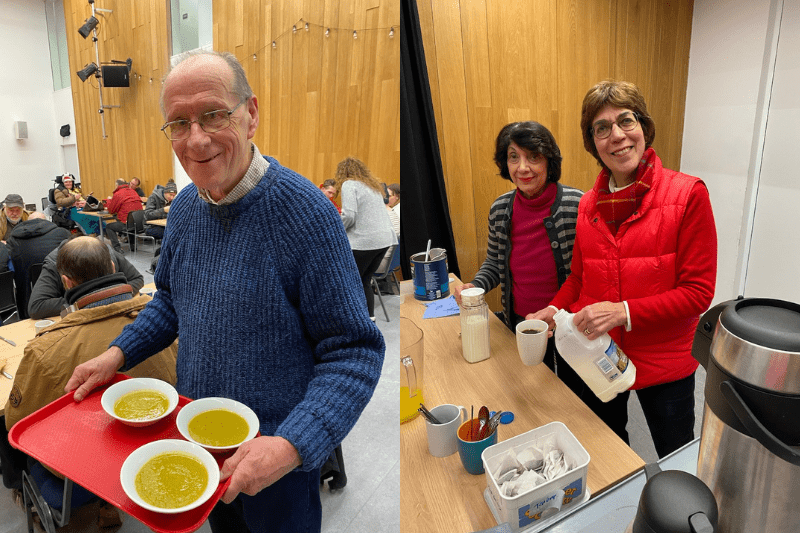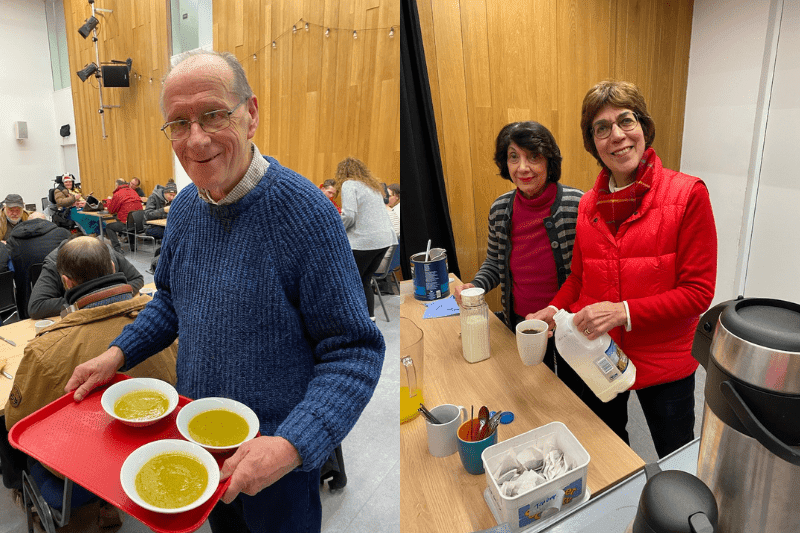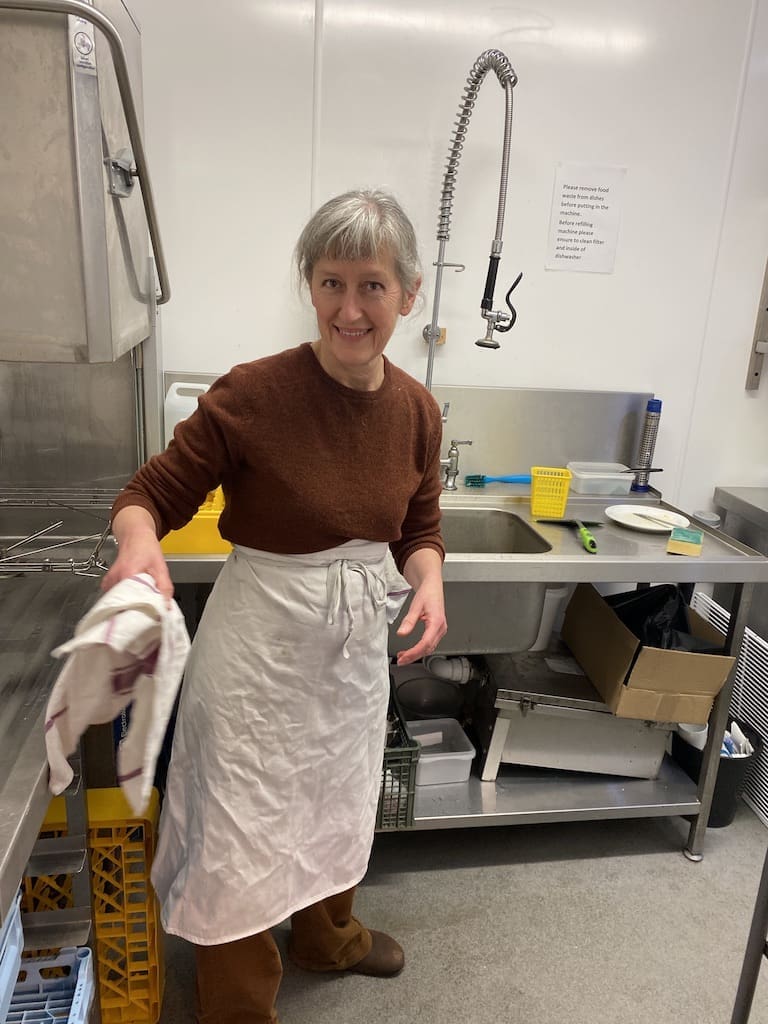 Become a Volunteer
We would not be able to deliver the amazing support and services we provide to vulnerable people and social enterprise customers without our fantastic volunteers. By giving their time and talents, volunteers make a positive contribution to our members' lives and ensure the continued success of our community.
The volunteer commitment varies depending on the role but can be as little as two hours a month. All our volunteers receive ongoing support and have access to free training throughout the year.
There are lots of opportunities for individuals to participate and join in! Everyone is welcome. 
A BIG THANK YOU
The Grassmarket Community Project relies on the time and commitment of our volunteers. The Volunteer Programme is possible thanks to the generosity of our customers, funders and donors. Our main funder for this area of our work is The Big Lottery Changing Lives programme and we thank them for their essential continued support.