Take a coffee break with Tommy online
Wherever you are, you can take a coffee break with Tommy online! 🙂
Every Monday afternoon and Friday morning, GCP Members have the opportunity to grab a cuppa and join Tommy for a good old blether online. The beauty of this session is that Members can join in from anywhere.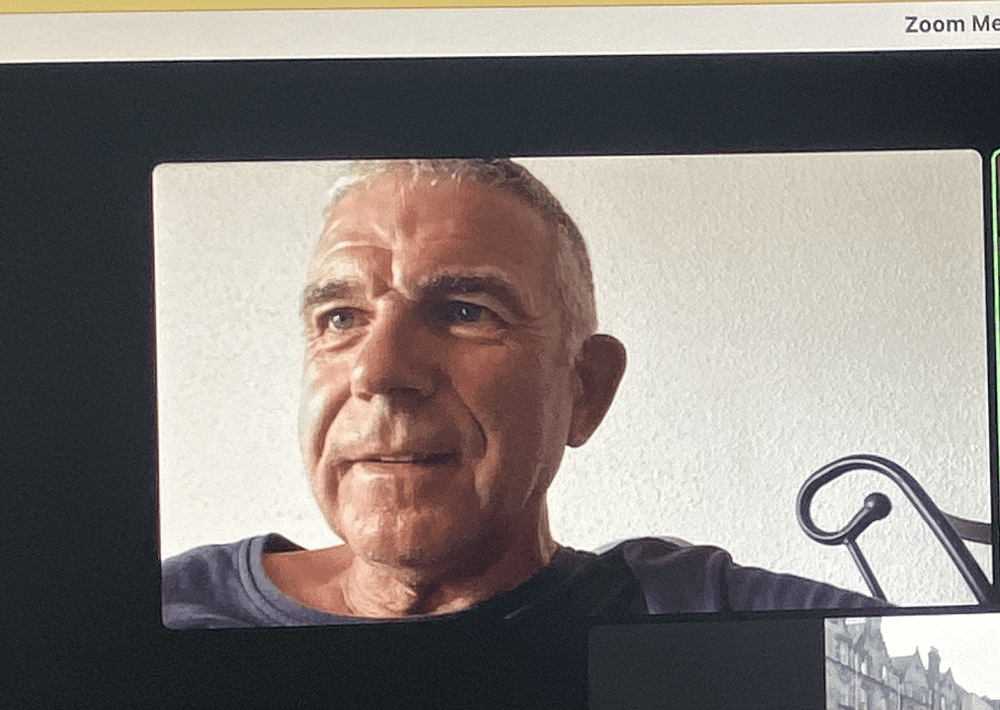 Tommy, who is now based in Spain, has been running the Coffee Break for nearly 3 years,
'We have members zooming in from their home in Edinburgh and regularly from as far as away as Japan. Members who are feeling ill, isolated or housebound can join in too.'
Recently one of our Members Steven joined in whilst walking about and shared a street artist's live performance with the group. Steven is a regular at Coffee Break and enjoys,
'Catching up with Tommy and everything, seeing what's happening'.
Many of us remember Tommy. He was one of the original people involved in setting up the Grassmarket Community Project and spent 16 years developing the Woodwork Social Enterprise. Latterly he was a valued member of the senior management team too. 
In 2019, everyone was sad to say goodbye when Tommy decided to live full-time in the south of Spain. He also missed us, of course! When the pandemic came along, Tommy had a great idea, 
'During lockdown a lot of classes went online for members, and I offered to host the coffee breaks, as it was something I could do from Spain. It was very successful so, after lockdown, we decided to carry on. The sessions enable Members at home to continue engaging with others.  It also helps me keep in touch!'
GCP's online Coffee Breaks cover all sorts of chat from the weather (of course!), to current news items, TV and soap operas, even Tommy's new parrot!
'We (not the parrot) chat about whatever those attending are interested in. We do tend to avoid heavy subjects like politics though!  It's just great to see everyone enjoying social interaction.'
GCP's Online Members Programme
Tommy's online Coffee Breaks are part of GCP's Online Members Programme which also includes our online history and creative writing groups. These, plus our twice weekly IT group and popular GCP Learning Hub programme, which members can access remotely or here from GCP's IT Suite, continue to help our Members engage and connect with the world.