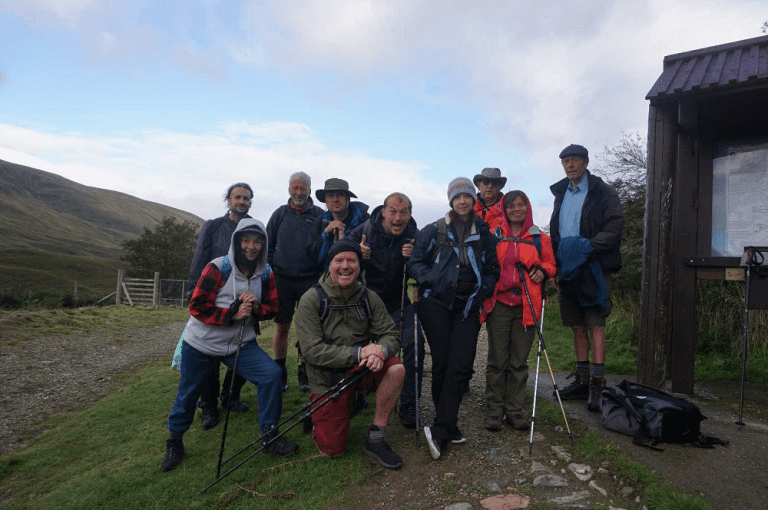 Long walks – 'There are so many small pleasures in walking'
Walking as part of a group increases physical activity and contributes to our wellbeing, it boosts our self-esteem and emotions. The NHS website confirms that walking is 'sometimes overlooked as a form of exercise, walking briskly can help you build stamina, burn excess calories and make your heart healthier.' It also improves mental health and can boost your creativity.
It has been estimated that poet William Wordsworth walked 175,000 miles in his lifetime, mostly long-distance walks across the Lake District, through Scotland and beyond. Wordsworth knew walking stimulated his creativity. He used to work out the rhyme and meter of his poems to the rhythm of his walking speed. It was whilst wandering in spring that he was inspired to write one of the UK's most loved poems at this time of year, 'I wandered lonely as a cloud.'
So, long walks can help the creative process, but they don't have to be lonely!
Meet GCP's Walking Group
The Grassmarket Community Project's long walks are a great chance to clear your head, meet new people, and make friends.
The many benefits of walking are well understood by the Grassmarket's Walking Group. Regular volunteer, Michael, shared his experiences with us. He's been involved with the Grassmarket since 2018 when he retired as a scientist working with NGO's, specialising in animal welfare. He is an experienced walker who even met his wife whilst hillwalking! Together they have completed climbing all 280+ Munros, (even the notoriously hard ones in the Cullin mountains on the Isle of Skye), so it was an obvious step to volunteer to help with GCP's walking group.
GCP paid for Michael to train in health and safety on walks, learning how to route plan, deal with dangers and scenario plan for potentially tricky situations, all to ensure members stay safe on the day trips and long distance walks.
Michael says that
'Every walk is made up of special moments, you look up from your feet and see leaves on the trees, hear birds, there are so many magic moments'.
He stresses that you do need to be 'a reasonably strong walker to take part' but you don't need any kit as the Grassmarket can provide boots, rucksacks and waterproofs if needed.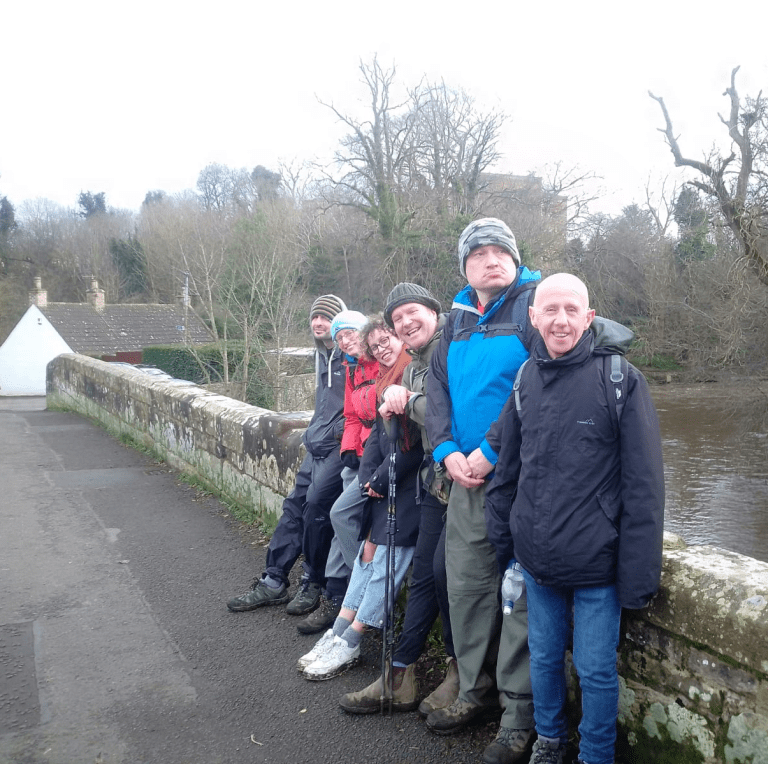 Day Walks with GCP
Day walks have always been popular with our Members and can vary from 5-12 miles, any travel costs are paid for and a sandwich lunch is provided. Walkers can appreciate nature all around them and also get to know different parts of Edinburgh and its surrounding coasts and hills. Recent walks have included from Queensferry to Cramond, Grassmarket to Portobello, North Berwick to Longniddry and Gyle to Pentlands.
Committed member, Andy (pictured here on the bridge, at the front of the group) has been on just about every walk and he loves it. He also enjoys the company.
'I join in and it keeps me fit, walking makes me happy. It's friendly and nice to talk and walk and I have made good friends in the group.'
Michael echoes that sentiment saying that conversation is a big part of the benefits of walking,
'You can end up in protracted conversations which you wouldn't necessarily have elsewhere. There are often jokes and singing too. It's also good to enjoy the opportunity for silence walking and contemplation.'
Coming up at GCP
If you are reasonably fit, why not sign up for the next two day walks:
23 April: The Edinburgh Coastline
Approximately 8 miles from Granton to Musselburgh, the walk will take you through Newhaven, Leith, Portobello and Musselburgh hugging the coastline of the Firth of Forth where you can see over to Fife.
21 May: A walk along Edinburgh's Union Canal 
The 8-mile walk traces the Union Canal from Ratho into Edinburgh. The canal was completed in 1821 after only 4 years of construction and originally brought coal all the way from Glasgow. After falling into disrepair and closed to navigation in the 1960's, it was renovated and reopened as 'the Millenium Link' in 2001 and now you can see boating, paddle boarding and fishing alongside wildlife like swans, butterflies, herons and if you are lucky even otters and kingfishers.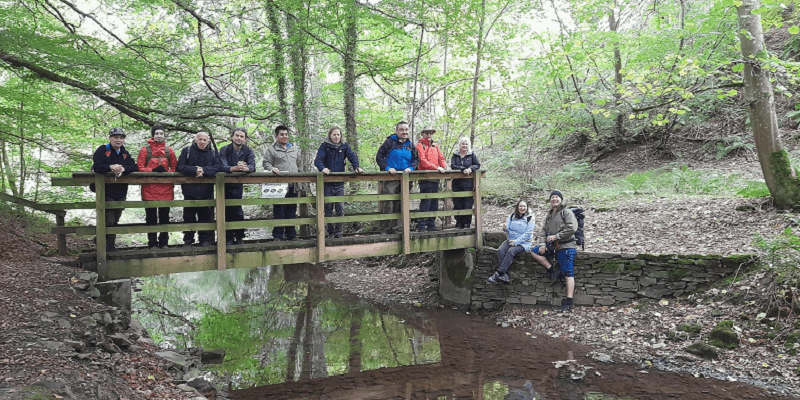 Long walks and distance trails with overnight stays
Once or twice a year, the walking group get more ambitious and have stayed overnight in bothies and hostels to enable a few days of walking. Most recently, we walked the West Highland Way which stretches nearly 100 miles from Milngavie, near Glasgow, through the glorious Highland scenery to Fort William. This was an ambitious 5 day hike.
Michael felt that everyone really benefited,
'It was tremendous in many ways with the rewards of walking on physical and mental health being manifold. The satisfaction and benefits to physical and mental wellbeing were immense. Some of us also really enjoyed interacting with nature and our conversations were really important. Some people complained of sore feet and blisters, but all kept going which was amazing!'
Long distance walks are well-planned to accommodate all. There is always support from a minibus, usually driven by Scott, who also ensures food is delivered for each evening stop.
The West Highland Way has also been Andy's favourite walk so far,
'It was fun staying in the hostels. Food was provided and we all helped prepare meals and slept well after walking all day. It was nice to see so many things, we saw hills, lochs, birds and even deer'.
Perry is currently planning the next long distance trail walk along the Pilgrim Way to Lindisfarne (18-24 September), so keep a look out for that.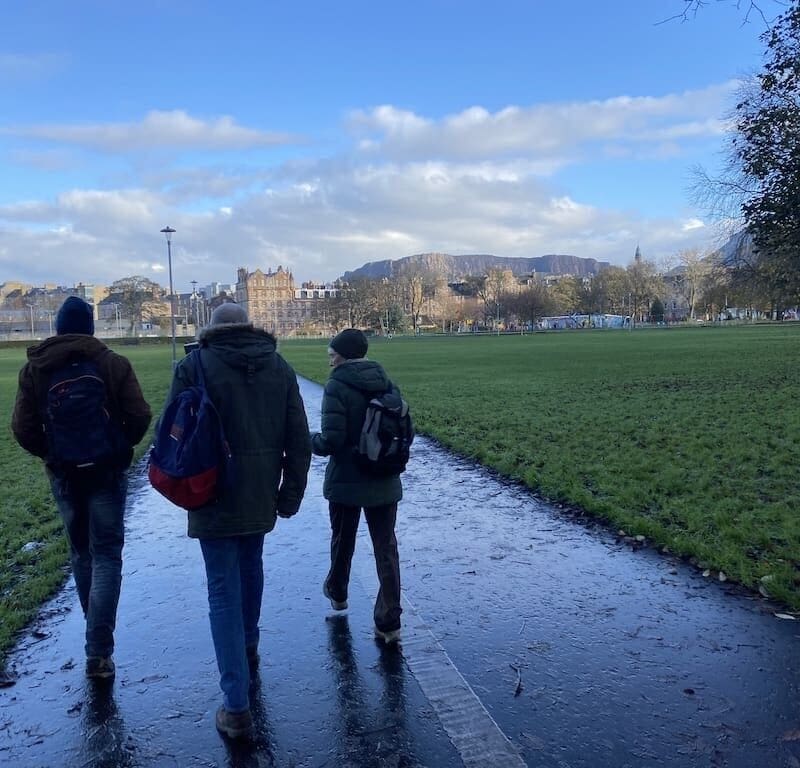 Become a Member
There are lots of opportunities for individuals to participate and join in! Everyone is welcome. 
Volunteer with us
We would not be able to deliver the amazing support and services we provide to vulnerable people and social enterprise customers without our fantastic volunteers.