15th February-  Delicatessen (1991)
Action / Comedy, 99mins, 15, Fra
French (with English Subtitles)
Dir: Marc Caro, Jean-Pierre Jeunet
Starr: Dominique Pinon, Marie-Laure Dougnac
After 8 years the founder of Grassmarket Community Picture House is leaving us. As a going away gift, we have selected to screen one of his favourite films and an early GCPH screener, in this brilliantly bonkers French surreal action/comedy about a landlord with a peculiar culinary taste.
Notes: Contains strong sequences of comic horror, an intense and frantic pacing, and themes of suicidal ideation and cannibalism.

22nd February – King Richard (2021)
Biopic, 144mins, 12, US
Dir: Reinaldo Marcus Green
Starr: Will Smith, Aunjanue Ellis, Saniyya Sidney
A carry over from last season's programme when it had to be cancelled last minute. This is a biopic about the life of Richard Williams' the uncompromising father of tennis champions Venus and Serena, featuring an Oscar-winning performance from Will Smith in the titular role.
Notes: Moderate violence and threat, issues of racism and domestic violence, infrequent strong language

1st March – Brian & Charles (2022)
[National Science Week Screening]
Comedy, 90mins, PG, UK
Dir: Jim Archer
Starr: David Earl, Chris Hayward, Louise Brealey
Jim Archer's whimsically hilarious feature debut is perfectly calibrated for our post-Covid reality. Brian is in a deep depression, home alone with nobody to talk to. But if you can't make new friends maybe you can build them, which is exactly what Brian does in the form of his robot chum Charles.
Notes: A very mild sense of threat, occasional violence and strong language. Deals with themes of depression, mental health and social isolation.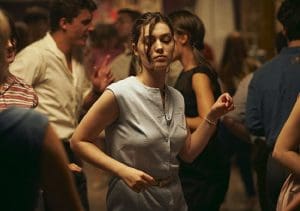 8th March – Happening (2021)
[International Women's Day Screening]
Drama, 100mins, 15, Fra
French (with English Subtitles)
Dir: Audrey Diwan