Join the Edinburgh Kiltwalk on Sat 17 Sep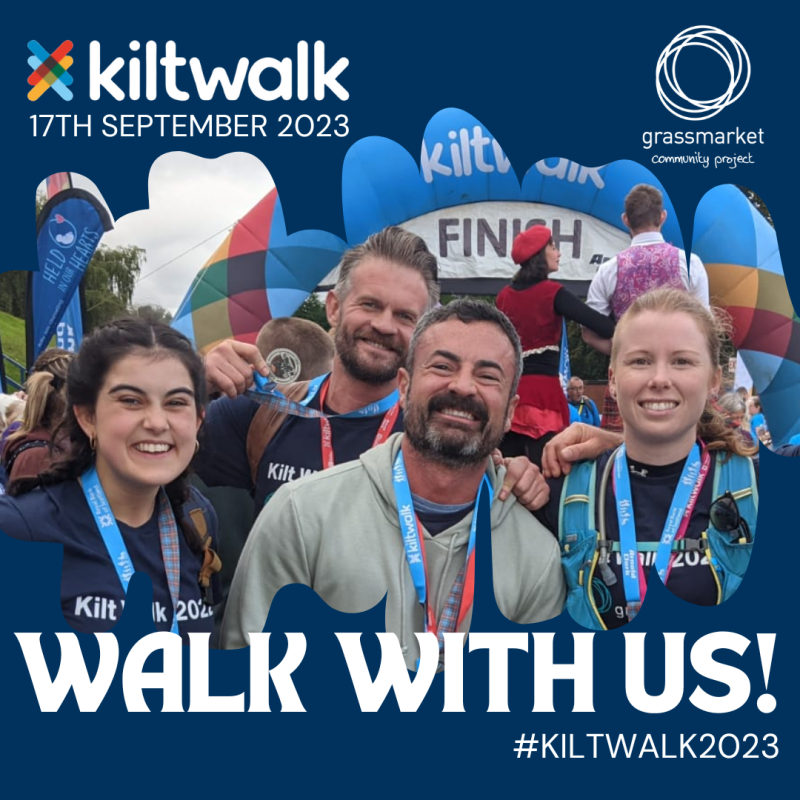 Join the Edinburgh Kiltwalk with us on Sat 17 Sep
The Edinburgh Kiltwalk is one of THE best ways to raise money for us AND it's a fun day out.
Choose to walk 5, 15 or 21 miles for GCP and receive:
a FREE GCP Kiltwalk T-shirt and Greyfriars Tartan Lanyard (so you look fabulous)
the best cheering support from the GCP community along the route (so you feel fabulous)
a £15 voucher for a meal at Coffee Saints when you complete the walk
To sign up and find out more visit The Edinburgh Kiltwalk and just start typing Grassmarket Community Project in the charity selection. You'll find us right there 🙂
Also PLEASE round up your friends, family and colleagues and help us spread the word. THANK YOU 🙂
Why walk for GCP?
The Grassmarket Community Project needs your support and the Kiltwalk is one of the best ways to help us. By joining the Kiltwalk you are helping raise funds to support all that we do to make a real difference for Edinburgh's most vulnerable adults. GCP, based at the Grassmarket Centre, is a community of over 500 people, working together to support positive changes in one another's lives. At GCP, we believe in a world where people reach their full potential, feel positive about themselves, valued and connected to others and the wider community.
The Grassmarket Community Project is THE good place to be and ALL are welcome.
** AND, this year, The Hunter Foundation is underwriting Kiltwalk's costs, allowing Gift Aid to be released to the nominated charities. This means that 125% of what you raise will go to GCP **
THANK YOU

🙂
Thank you so much for supporting your local community and some of Edinburgh's most vulnerable and at risk adults by fundraising for The Grassmarket Community Project – you really are a star and we appreciate everything you are doing.