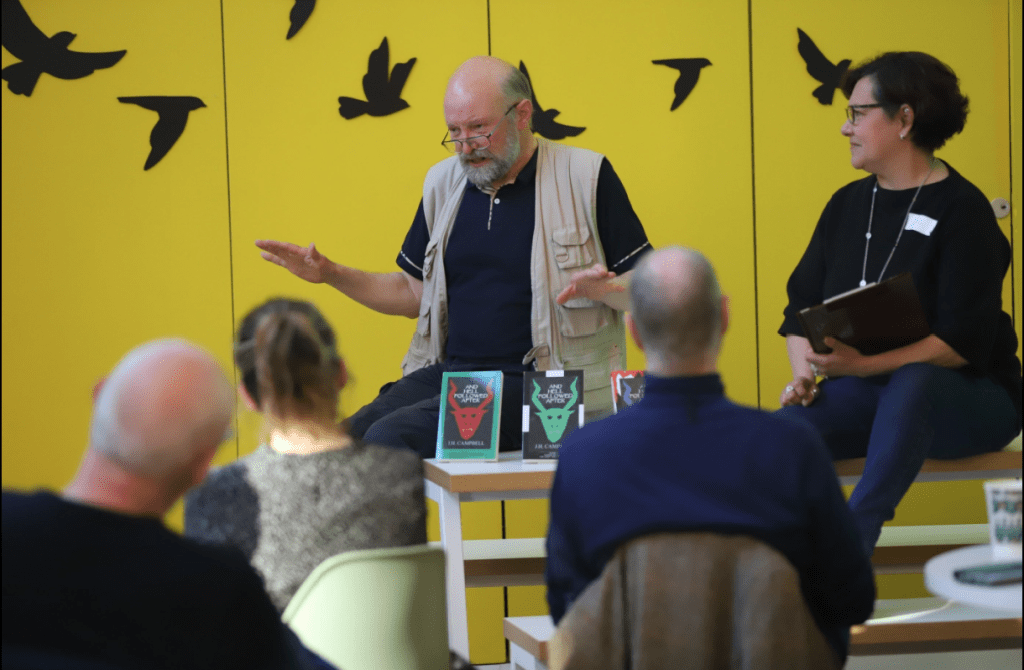 Meet JH Campbell, our good friend James
Born and bred in Edinburgh, J.H. Campbell is a novelist, writer of short stories and until 2006 he worked as a freelance photographer. He is the author of the Epic Dark Fantasy series "The Legend of Zanta Klaus".
James is also a much-loved volunteer here at The Grassmarket Community Project.
During one of his regular visits to GCP, we sat down with James, and his cat Tabatha, to find out more…
Finding The Grassmarket Community Project
Back in 2006, James Campbell took a break from his work for health reasons. He later went back to college to study Computer Networking and IT Support, in the hope of starting a new career, while caring for his mother. When his mother passed away in 2011, James had to quit college due to family commitments.
James found The Grassmarket Community Project in 2014. When he considered volunteering, it seemed the IT group would be the best fit for him. It wasn't long, however, before our other James recommended GCP's Open Book Group and the Creative Writing Group. James and James found common ground, and James Campbell discovered a rich seam!
A rich seam indeed
James has always loved reading. Yet in later life he had only been reading reference and technical material. The Open Book group opened his eyes to a more diverse reading material. It's very clear when you spend time in his great company how much he loves the written word. Refreshingly for a man of his generation, James particularly enjoys promoting the work of women writers.
His favourite childhood books were The Dragon Riders of Pern, a science fantasy by American author Anne McCaffrey. Discovering the world of science fiction and fantasy at a young age would help shape James' future path.
When James joined our Creative Writing Group back in 2014, He was more than a little daunted,
'I said to the other James, "It takes me a week to write a letter!" But I had nothing to lose, so decided to give it a go!'
Initially, James was surprised by how much he wanted to write. He wrote and wrote,
'I filled piles of notebooks. Initially, writing was very cathartic. Clearly I had a lot to express and wrote about many things. I feel strongly about politics and ecology. I had found a way to get the stuff out of my head by writing it and onto the page. Writing is a great form of therapy.'
Within a few short months, James was letting his imagination run more freely and stories were forming,
'My brain was reaching out. The scenes in my head became notes on pages.'
James harnessed his creativity and technical prowess, researching and identifying some valuable tools to help him with his writing. He found and listened to podcasts on the art and business of writing. He also invested in the writing software Scrivener, the go-to app for writers of all kinds.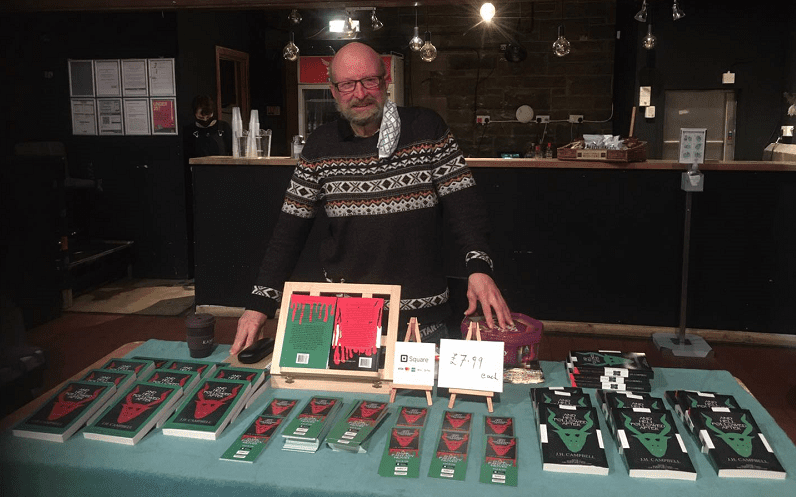 Becoming an author
In January 2015, James started to write his first book. By March 2015, he had written 32,000 words. By 2017, he had 3 book drafts under his belt!
His first two books were published in 2017 in digital formats and available via Apple, Kobo, and Amazon Kindle. The third in the series was published in digital formats in 2018.
James' first book was published in paperback in time for the Cymera Book Festival in 2019.
Throughout this hugely productive time, James was regularly attending and contributing to our Open Book and Creative Writing Groups. He was sharing his work and appreciating the valuable feedback of his fellow book lovers,
'I have a great imagination, but I can't imagine how I could have achieved what I have without the support of GCP, the lead volunteers during that time, and these groups.'
A man on a mission, James didn't let the pandemic stop him. Instead, he used the time productively to revisit and edit his trilogy. James named the series "The Legend of Zanta Klaus." The first three books has the main title of "And Hell Followed After."
And Hell Followed After – Trilogy
And Hell Followed After: Subtitle: The Witch Hunters of Otnasnom
And Hell Followed After: Subtitle: Where He Goes, The Light Will Follow
And Hell Followed After: Subtitle: The Road to Armageddon
In 2022, we were delighted to host the launch of his 3rd book in paperback at Coffee Saints. It was such a great way to celebrate James and his amazing work, and for us to thank him for all his support for GCP over the years.
We asked James to sum up his relationship with The Grassmarket Community Project,
'I would come twice a week and I really liked the fact there was never a limit on the size of the Creative Writing Group. It was always popular and everybody had the opportunity to read out their words if they wanted to. It was thanks to GCP and the Open Book Group that I got back into reading for pleasure.

'I really believe in the importance of telling stories. I also believe that the written word has the power to reach further into your imagination than any film. Every word and group of words has an impact.'
We're delighted to confirm J.H. Campbell is now working on his fourth book. Watch this space!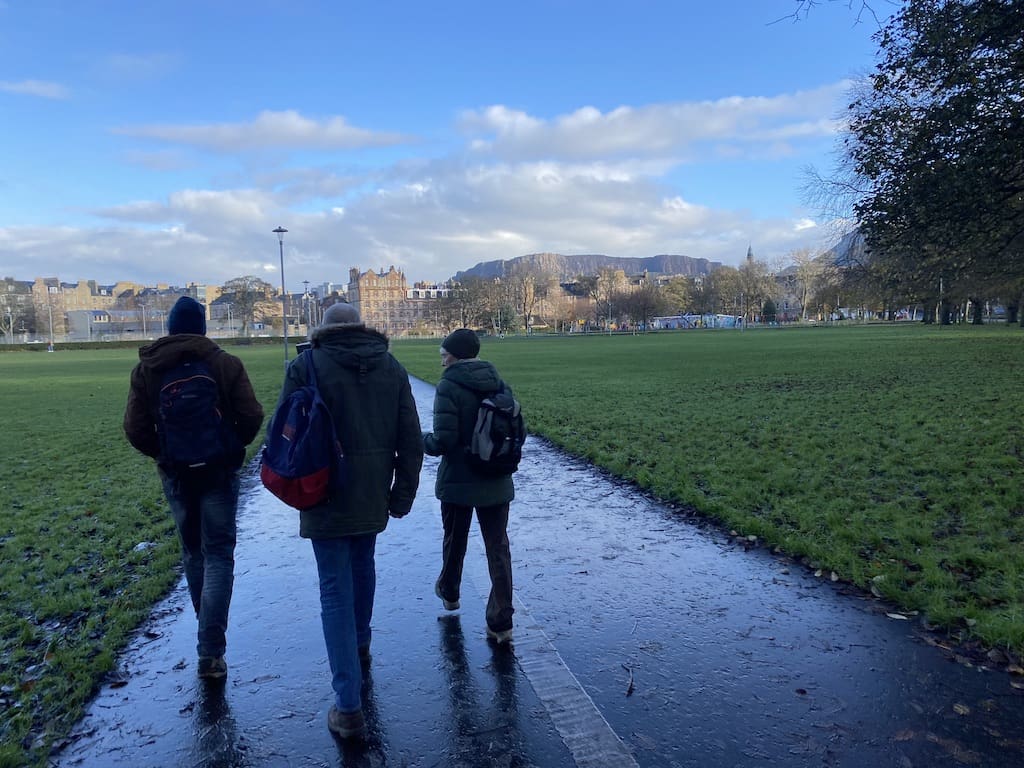 Become a Volunteer
We would not be able to deliver the amazing support and services we provide to vulnerable people and social enterprise customers without our fantastic volunteers. By giving their time and talents, volunteers make a positive contribution to our members' lives and ensure the continued success of our community.
The volunteer commitment varies depending on the role but can be as little as two hours a month. All our volunteers receive ongoing support and have access to free training throughout the year.
There are lots of opportunities for individuals to participate and join in! Everyone is welcome. 
A BIG THANK YOU
The Grassmarket Community Project relies on the time and commitment of our volunteers. The Volunteer Programme is possible thanks to the generosity of our customers, funders and donors. Our main funder for this area of our work is The Big Lottery Changing Lives programme and we thank them for their essential continued support.