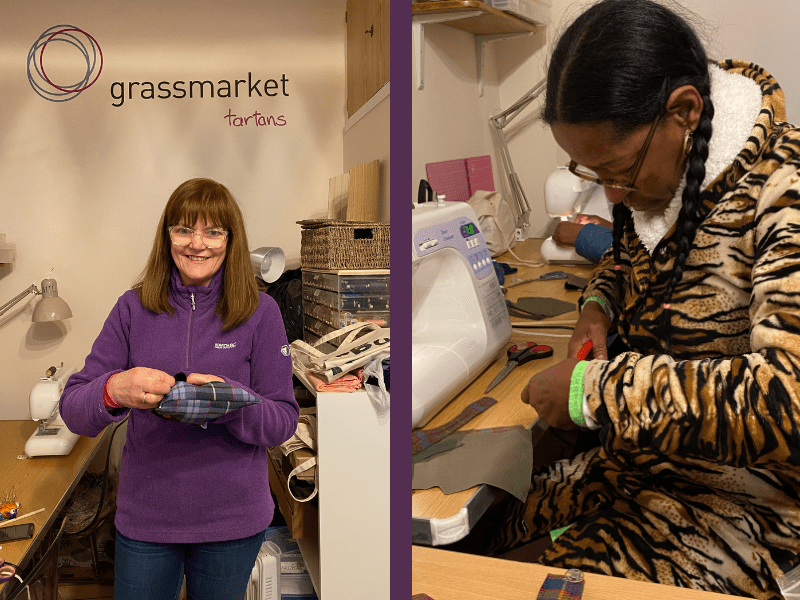 Inspirational Anne and Magdala
At the Grassmarket Community Project, we are blessed with many inspirational Members, Volunteers and staff. This month, we're celebrating the inspirational women of GCP, so would like you to meet Anne and Magdala.
Meet Anne
Anne is one of our wonderful volunteers, regularly seen helping out at the Tartan Workshop, the two Coffee Saints Cafes, Open Door Meals and Make and Mend, to mention just a few. The fact that Anne can volunteer in so many ways reflects how talented she is!
Prior to the lockdown, Anne worked in quality improvement in the NHS. Last year, she decided to step back from full-time working and now juggles her time between her family, The Grassmarket Community Project, and travelling everywhere to support the Scotland Football Team. Bedecked in the Robertson Tartan at football matches, she has regularly been interviewed by BBC and international news channels!
Anne loves the variety of people at GCP,
'The staff treat you as part of the team and constantly encourage you and appreciate your support. It is such a happy place!'
When asked about her inspiration, Anne immediately talked about her Great Aunt Mo who taught her to crochet, sew and knit. Mo lost her husband and a son and was bringing up a disabled son alone when she became one of the first single women in Scotland to apply for, and gain custody of, a child.
That child was Anne who had lost both her parents by the age of eleven. Mo was a strong woman who just got on with things and lived to the ripe old age of 92. What a woman!
Meet Magdala, she is sew inspirational!
Anyone who has visited Make and Mend or the Tartan Workshop remembers Magdala. She quietly gets on with her sewing and creates the most amazing pieces. She also finds time to help others with their creations.
Magdala learned how to sew at the age of 14. Times were difficult in her native Cuba and sewing meant she could make her own shoes. Today, her Spanish goes down very well with all the Spanish-speaking tourists who pop into the Tartan Shop on Candlemaker Row.
Magdala has been coming to the Grassmarket since 2018,
'It's a place which gives me confidence. Before I felt lonely but at the Grassmarket Centre I have met people and become more confident about myself and my English has improved.'
She really loves helping at the Tartan Workshop and she also knits and crochets, making baby shoes, socks and dresses for her grandchildren,
'I enjoy doing sewing, I like to improve more and more and learn new skills.'
Magdala inspires many with her sewing skills. When asked who inspires her, she mentions Marta who originally set up our Tartan Social Enterprise. She then adds,
'The thing that inspires me most is a sewing machine!'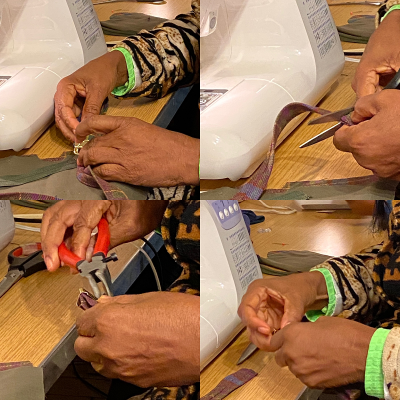 Become a Member
There are lots of opportunities for individuals to participate and join in! Everyone is welcome. 
Volunteer with us
We would not be able to deliver the amazing support and services we provide to vulnerable people and social enterprise customers without our fantastic volunteers.