Pain and Glory (2019)
February 3, 2020 @ 7:00 pm

-

9:30 pm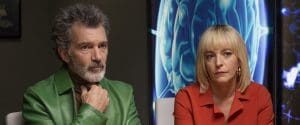 Dir: Pedro Almodovar 15, Spain, Drama,
Film starts 7:15pm (doors 7pm), running time 113mins
Spanish maestro Pedro Almodovar returns to the big screen and reunites with old muse Antonio Banderas for a deeply self-reflexive and highly personal take on ageing and loss.
Banderas plays Salvador Mallo, a film director crippled by self doubt and a series of torturous mental and physical maladies. When he bumps into an actor he worked with years before on a breakthrough project, they rekindle their creative partnership after burying the hatchet on decades of ill will and bad feeling.
One of the films of 2019 and a great return to form for one of European cinemas most exuberant cinematic talents.
Free, donations welcome.