FREE FILM SCREENING: Life of Pi (2012)
June 9, 2021 @ 7:15 pm

-

9:30 pm

Free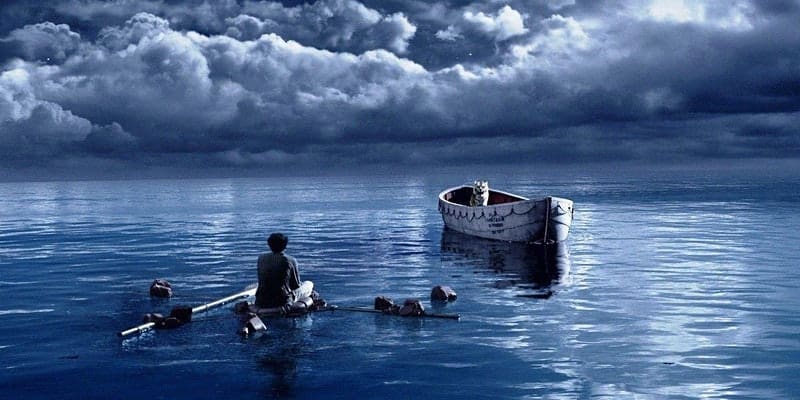 GCPH co-programmer Ewan McCorry returns with this second Bad Trip screening, a majestic adaptation of Yann Martel's novel by Ang Lee.
About this event
Dir: Ang Lee
Stars: Irfan Khan, Suraj Sharma, Rafe Spall
Run Time: 127mins
Country: US / Taiwan / UK / Can / Mex / India / Fra
Cert: PG
We Move from air to sea for this leg of our Bad Trip journey, with Ang Lee's adaptation of Yann Martell's philosophical lost-at-sea novel. Pi Patel, the son of zookeepers in India recounts an unbelievable life story that leads to a fated voyage across the Pacific ocean with his parents as they plan to move to Canada, taking their many exotic animals with them. Disaster strikes in stormy waters as the ship is lost and Pi is the only person able to reach a lifeboat. When he comes to he realises he isn't alone on the small boat, as he is accompanied by a zebra, an orangutan, a hyena, and most distressingly, a Bengal tiger.
Whilst being lost at sea isn't anyone's dream scenario, Lee's direction manifests the colourful radiance of the source text and doesn't omit its intense sense of spirituality.
This film is the first in our programme to commemorate the passing of the great Irfan Khan, who passed just over a year ago. His performance as the older Pi who narrates the tale, is filled with a sureness of self that makes this unbelievable story believable.
BOOK: https://www.eventbrite.co.uk/e/gcph-screening-life-of-pi-2012-tickets-153353001957
NOTE: Features scenes depicting violence between animals